So I have this love affair with dark chocolate. Really dark chocolate. And I tend to "acquire" lots of it with the intentions of using plans it right away. Only thing is, that's often a plan that goes awry .
Life happens.
But I'm not a wasteful person either so I worked last week developing some ideas for using up some of that dark chocolate stash. These not-too-sweet cushiony Dark Chocolate Madeleines dunked in Dark Chocolate-Orange Ganache were one of the more successful of those ideas. I'm pretty sure they're going to end up on a chocolate segment for THV11 soon.
To paraphrase a line from Forrest Gump, chocolate and orange go together like peas and carrots. Well, it's sort of a paraphrase, don't you think? There's just something about the sweetness of the orange that smoothes out the bitterness of the dark chocolate.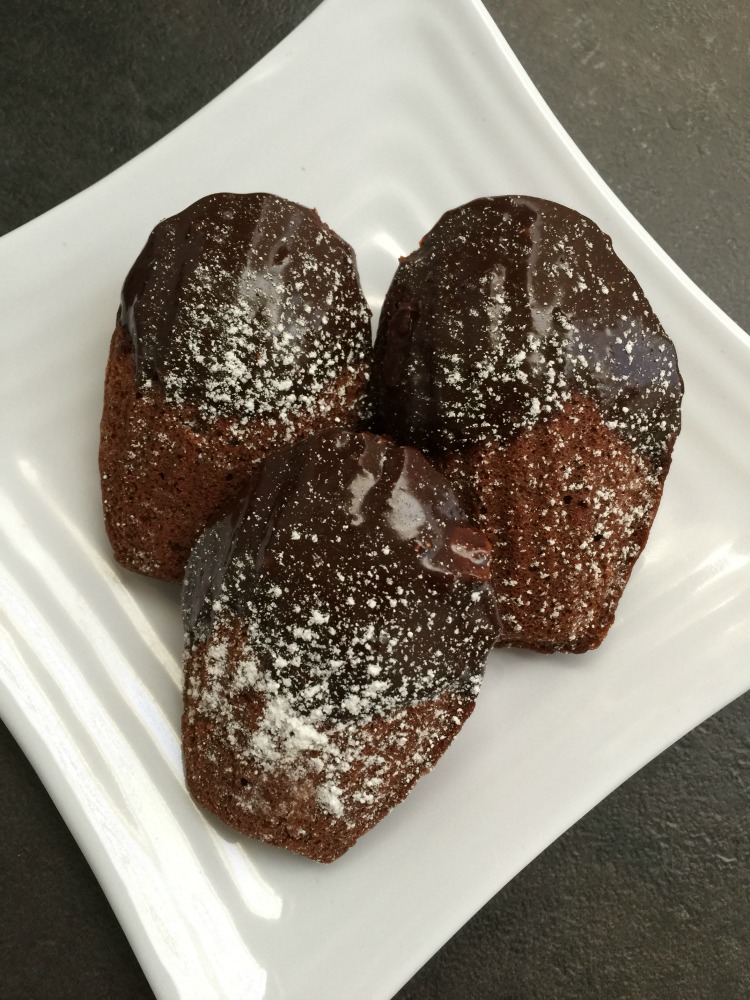 They make sure pretty cookies, I think. Soft and pillowy (is that a real word?), they almost melt in your mouth and have just enough sweet and chocolate to satisfy the chocolate craving that oftentimes ensnares me late afternoon or night. That's the thing about dark chocolate. It just doesn't take much of it to satisfy me.
One of the keys to making anything chocolate is using real quality chocolate to begin with. I'm partial to Lindt™ and Ghiradelli™ myself not only because they are both quality and great for baking, but they are easily found in my markets unlike some others.
Don't get me wrong. I'll chow down on a Hershey™ bar just about anytime it's offered. But I don't usually use those for baking purposes.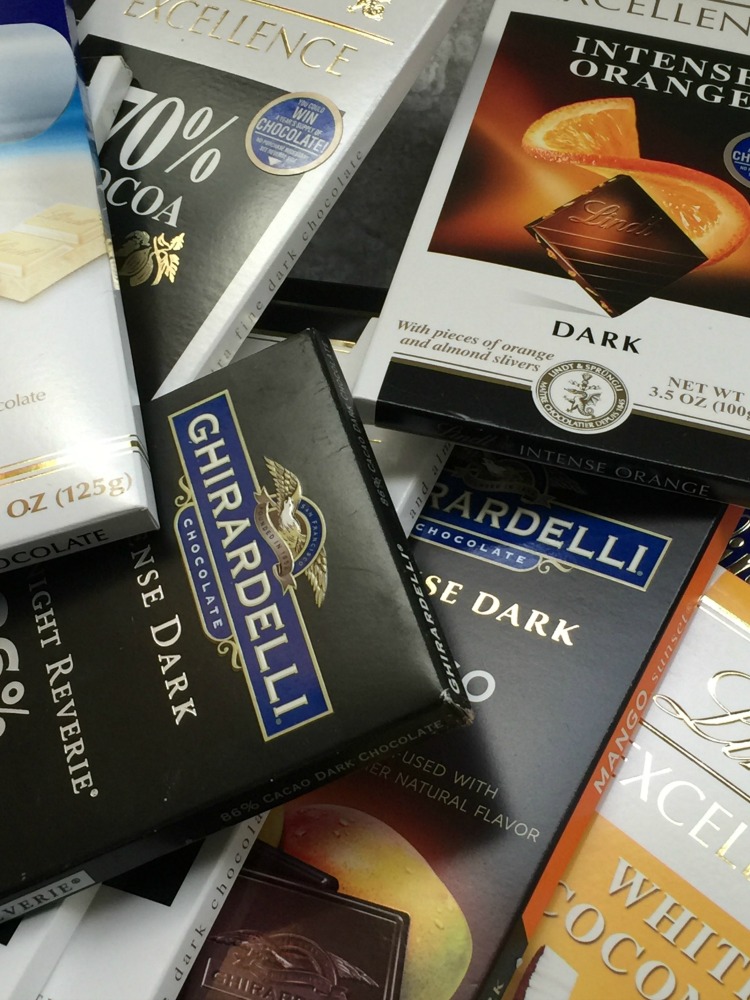 See what I mean?
Madeleines do require a special pan, but those are easily found at Bed Bath and Beyond or online. I'm sure your favorite kitchen specialty store will have them as well. I only have one which I just cool clean in between batches. My pan makes 1 dozen cookies at a time.
Now that I have your attention, give me ideas for using this quart of Kyya Chocolate Syrup I won in a giveaway just recently. Kyya™ is an artisan chocolate producer in Elm Springs, Arkansas. Their chocolate products are some of the best to be found. Y'all go pay them a visit. Before you do, tell me how you might use this syrup.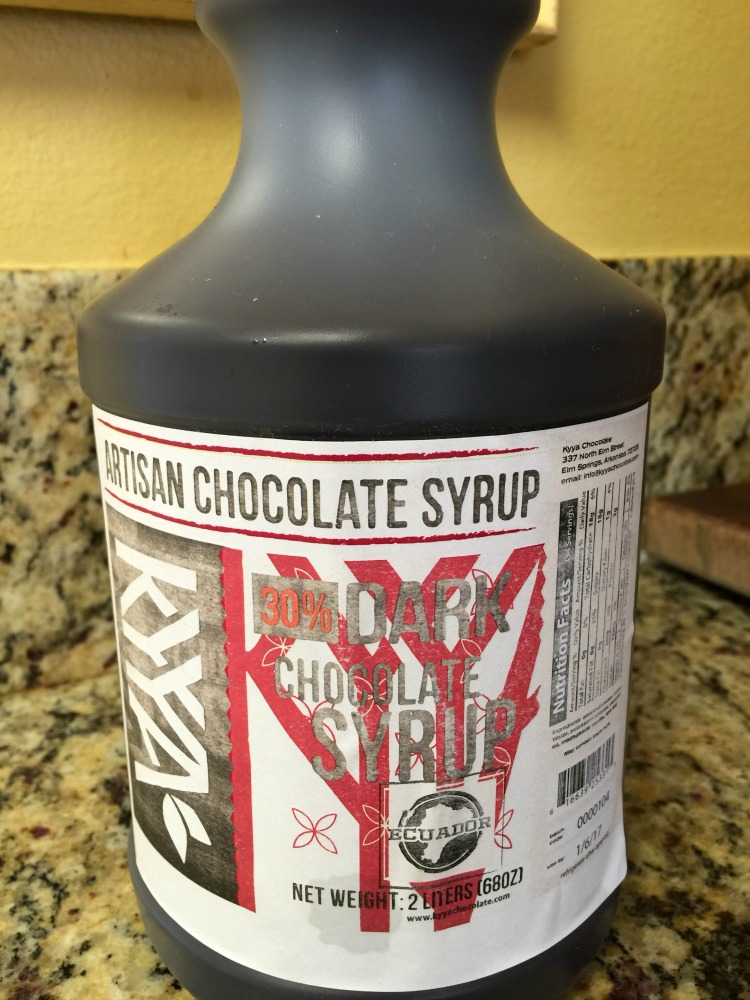 I can't just guzzle it down!
Of can I?
Dark Chocolate Madeleines with Dark Chocolate-Orange Ganache
Ingredients
Madeleines

1/2 cup sifted all-purpose flour
1/2 cup dark chocolate cocoa powder
1 teaspoon baking powder
1/8 teaspoon salt
1/4 pound unsalted butter at room temperature, plus more for coating pans
2 teaspoons orange extract
1 teaspoon vanilla extract
1/2 cup granulated sugar
2 large eggs, plus 4 egg yolks
Orange-Chocolate Ganache

1 3.5-ounce bar Lindt™Intense Orange Dark Chocolate, ground in food processor
1/4-1/2 cup heavy cream
Powdered sugar as garnish
Instructions
Madeleines

Preheat oven to 375 degrees.
Grease 2 madeleine pans with softened butter, making sure to get into all indentations. Set aside.
In a medium bowl, sift together flour, cocoa, baking powder and salt; set aside.
In the bowl of an electric mixer, cream 1/4 pound butter until light and creamy.
Add in extracts and sugar. Mix thoroughly.
Add the whole eggs and egg yolks and beat well. (It may appear curdles, but that is okay. It will become smooth.)
With mixer on low speed, begin adding in dry ingredients. Beat just until blended.
Place a rounded teaspoon of batter into each cookie mold. Do not overfill or spread. The batter will smooth itself out.
Bake about 15 minutes or until cookies spring back when touched.
Remove from oven and invert onto a wire rack to cool.
Ganache

Put ground chocolate bar in a small glass bowl.
Heat heavy cream in microwave just to a simmer. Starting with 1/4 cup of hot cream, pour over ground chocolate and stir gently. Add additional cream as needed to make a smooth mixture.
Dip the end of each madeleine into the chocolate sauce and set aside on a wire rack to cool.
Dust cookies with powdered sugar, if desired.
https://diningwithdebbie.net/2017/02/01/dark-chocolate-madeleines-with-dark-chocolate-orange-ganache/
DiningWithDebbie.net. All Rights Reserved.