By now you know my love affair with cauliflower. I love it with a mustardy frosting. I love it diced in a pilaf. Roasted, toasted, smashed or mashed–you'll find cauliflower on our dinner menu every week in one form or the other.
You also know I'm not one to waste food. I guess I inherited that from my grandmothers, especially my Nonnie. I mean, you could open her refrigerator at any time and their would be a variety of TABLESPOONS of leftovers waiting to be eaten. She never, ever, ever threw away food. It was eaten or repurposed…ALWAYS.
Now, I'm not quite the saver she was, but I do like to make use of leftovers in new ways whenever I can. That's how this salad came into being.
I had part of a couple of pieces of smoked salmon, part of a head of cauliflower , a few asparagus spears, a mix of grape tomatoes and several ounces of arugula-spinach salad blend. Borrowing the basic recipe from my Smoked Salmon and Orzo Salad made this one a snap.
Hubby declared it a real winner and so did I.
My Nonnie would be so proud, y'all.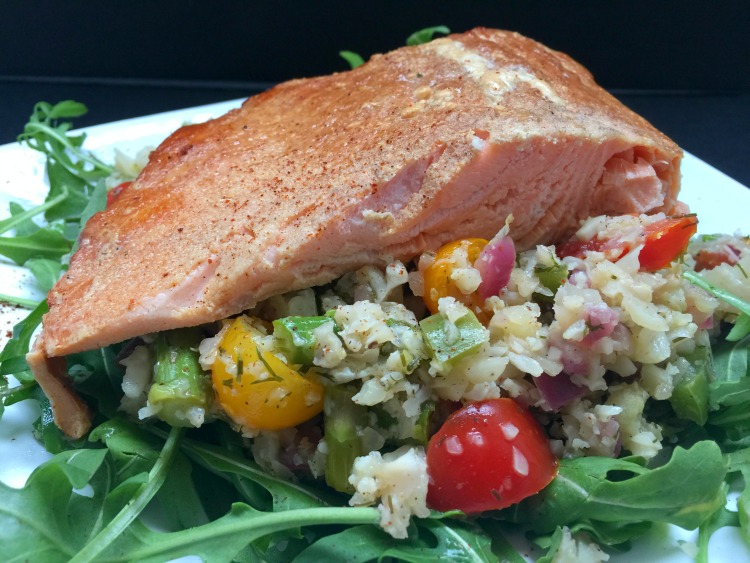 Smoked Salmon over Cauliflower Rice Salad
Ingredients
Cauliflower Rice

1 1/4 cups coarsely chopped fresh asparagus, blanched
1 cup chopped bell pepper
1/2 cup chopped white or red onion
1 clove garlic, minced
2 Tablespoons olive oil
3 cups cauliflower rice
1 1/2 cups halved or quartered grape or small cherry tomatoes
3-4 cups arugula or spring salad blend
1 4 ounce piece smoked salmon per person (3-4) (May substitute smoked chicken.)
Lemon-Dill Vinaigrette

1 Tablespoon chopped fresh dill
3 Tablespoons fresh lemon juice
2 teaspoons extra-virgin olive oil
1/4 teaspoon salt (or to taste)
1/4 teaspoon freshly ground black pepper
Freshly cracked black pepper
Instructions
Lemon-Dill Vinaigrette

Whisk together all ingredients; set aside and whisk again before adding to cauliflower rice mixture.
Cauliflower Rice

In a large skillet, heat olive oil over medium heat. Add bell pepper and onion. Sauté until vegetables are tender, 5-6 minutes.
Add minced garlic and cauliflower rice, cooking until cauliflower is tender.
Remove from heat. Toss with Lemon-Dill Vinaigrette. Stir in tomatoes.
Chill.
To serve

Warm salmon, if desired.
Place arugula on chilled salad plates.
Top arugula with cauliflower rice salad.Add warmed salmon over salad.
Notes
I used leftover smoked salmon Hubby had prepared. You could just as easily use grilled salmon or chicken.
Cauliflower rice is made by pulsing cauliflower florets in a food processor until they resemble rice. I pulse it as needed since is become quite "fragrant" when riced then stored in the refrigerator.
https://diningwithdebbie.net/2017/01/29/smoked-salmon-over-cauliflower-rice-salad-low-carb/
DiningWithDebbie.net. All Rights Reserved.