If the only way you've ever had brussels sprouts was when they were boiled to death, then you haven't really had brussels sprouts. No wonder you didn't like them.
Give me the chance to convert you into a brussels sprouts lover.
There are innumerable ways to prepare brussels sprouts, but one of our absolute most favorite ways is to roast them. And that could not be easier to do, y'all.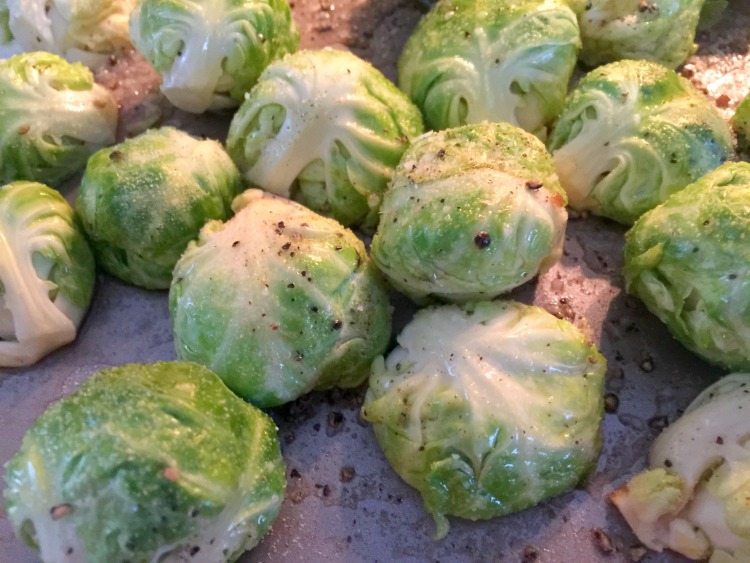 Oh you can vary the preparation by adding bacon or onion if you want, but today we're just starting with the basics. Once you get that down, then you're good to go with whatever additions you choose.
Here ya' go. It's simple and yet it's definitely tasty! Just wait til you see what you can make once you master this first step!
Kitchen Basics: Roasted Brussels Sprouts
Ingredients
1 pound brussels sprous
4 to 6 tablespoons extra virgin olive oil, to coat bottom of pan
1 Tablespoon minced garlic
Kosher salt
freshly cracked black pepper
1 tablespoon balsamic vinegar, optional
Instructions
Preheatoven to 400 degrees.
Trim bottom of brussels sprouts and slice each in half top to bottom unless they are quite small.
Line a baking sheet with aluminum foil. Spread oil over all.
Put sprouts cut side down in one layer in pan, coating with olive oil.
Put in garlic; sprinkle with salt and pepper.
Roast undisturbed, until sprouts begin to brown on bottoms; continue roasting until sprouts are quite brown and tender, about 20 to 30 minutes. (Time may vary depending upon size of sprouts.)
Taste adding more salt and pepper if desired. Stir in balsamic vinegar if using, and serve hot or warm.
https://diningwithdebbie.net/2017/01/17/kitchen-basics-roasted-brussels-sprouts/
DiningWithDebbie.net. All Rights Reserved.