This is another idea in my Gifts From the Kitchen series, and it's one I often fix. We are bean and soup lovers at our house so this makes for an easy meal go-to for me. Plus, I make it in the slow cooker which is another big plus. You could, of course, fix Calico Bean Soup on the stove top, but I really think the flavor is improved with the slow cooking method.
I do not presoak my beans. I do rinse them, but I have not found any good reason to presoak them. We think the flavor of the beans really stands out by cooking them without presoaking.
Just try it at least one time. I think you'll be sold when you do.
This is a very versatile soup. If you absolutely are a black bean hater — don't use them. Just sub in whatever bean you prefer. Do, at least, have a variety of them. This is, after all, "calico" bean soup which is reminiscent of the calico fabric full of bright colors and varied patterns our grandmothers and great-grandmothers relied upon for much of their fabric stash.
While I bagged these, you can just as easily put the soup in jars. I made a little bag topper over on Picmonkey which you are free to download if you'd like. I've bought bag toppers before at Hobby Lobby if you're not inclined to make your own. I think it would be fun to let the kiddos have a hand at designing these either on the computer or by freehand.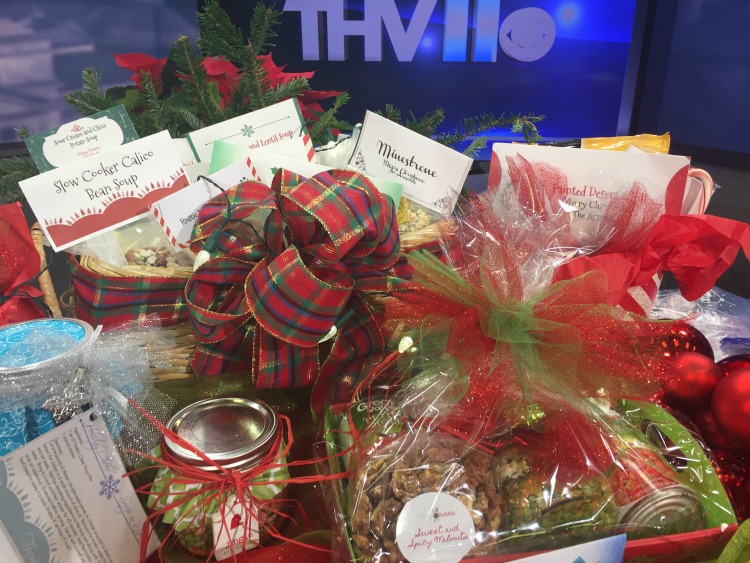 In case you missed my THV11 segment this past Tuesday, you really need to check out the multitude of soup mix links I've suggested for you.I've worked my way through most of them and highly recommend that you do as well.
Make some of these up ahead for your own pantry and decrease that "what will we have for supper" stress. You deserve a little pampering. Yes, you do.
BTW, are you still buying that bean soup mix at the grocery? Well, I'm tellin' ya' make your own. You'll save $$$. Promise.
Christmas shopping done? Need a little giftie for a neighbor, friend or postman? Whip up a jar or bag of this soup mix, pretty it up with a fancy (or not so) label and give a little holiday cheer.
I mean. A person can only eat so many Christmas cookies, y'all.
Gifts From the Kitchen: Slow Cooker Calico Bean Soup
Ingredients
Soup Mix

1/3 cup red lentils
1/3 cup green lentils
1/3 cup green split peas
1/3 cup dried black beans
1/3 cup dried pinto beans
1/3 cup dry navy beans
1/4 cup dried minced onion
1 packet ham seasoning (Goya)
1/4 teaspoon ground chipotle or ancho chile pepper
1/4 teaspoon ground cumin
1/4 teaspoon garlic powder
2 bay leaves
2 teaspoons Italian seasoning
Soup

1 15-ounce can Rotel (We prefer Hot. Variety is up to you), optional
2 carrots, sliced
2 stalks celery, sliced
2 teaspoons Liquid Smoke
2 cups cubed Petit Jean Meats Hickory Smoked Ham
2 teaspoons Liquid Smoke
Instructions
Soup Mix

Layer beans and onion in a quart jar or vacuum seal bag. Stick in ham seasoning packet along the side.
Combine onion, cumin, garlic powder, bay leaves, Italian seasoning in a zipper snack bag. Place spice bag on top of beans. Seal container and store in a cool place.
Soup

In a 6-quart slow cooker crock, place beans and 6-8 cups of water. Water should cover by 2-3 inches. You may need to add more water during cooking.
Stir in contents of seasoning packet and ham seasoning packet.
Add in Rotel, carrots, celery and Liquid Smoke.
Cover and cook on LOW 8 - 10 hours, checking liquid as beans swell.
Add ham during the last hour of cooking.
https://diningwithdebbie.net/2016/12/23/gifts-from-the-kitchen-slow-cooker-calico-bean-soup/
DiningWithDebbie.net. All Rights Reserved.
You're welcome to download the bag label. This one is sized for a 5-inch bag. Just click on the bag for the link.