While researching ideas for my Gifts From the Kitchen: Soup Mixes segment on THV11 This Morning last Tuesday, I rediscovered this terrific little Christmas project. I say "rediscovered" because my daughter and I made many bags of these years ago for her to distribute around the neighborhood. This was prior to our Gary's Favorite Pumpkin Bread Days.
It's such an easy project for you to do with your kiddos or grands, and these bags of Snowman Soup make a nice little extra tidbit to stick into gifts for teachers, secret pals, the postman or neighbors. Why not gather several littles together and have yourself a "soup" making party? Once completed and sealed, the bags will keep for a month or more making it a nice make-ahead project.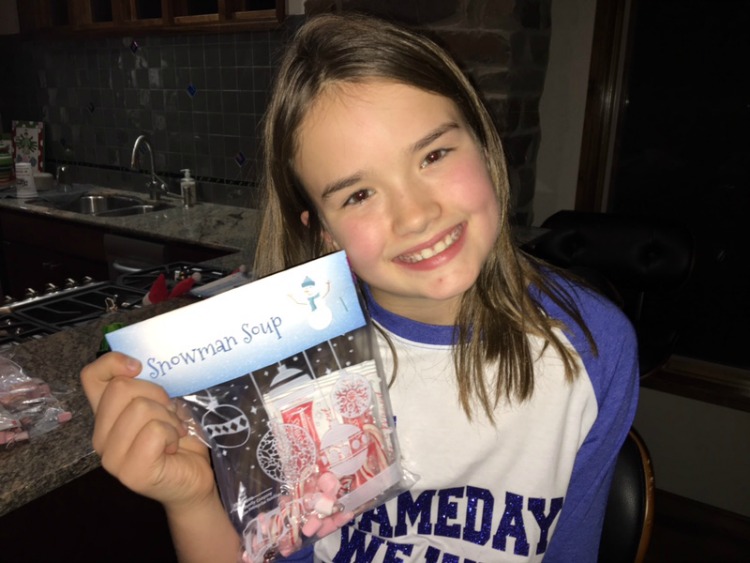 You may have come across Snowman Soup before, but put your own twist to the basic recipe. Me? I love, love peppermint and dark chocolate together so I add in peppermint-white chocolate chips and some dark chocolate chips. If you are an eager beaver, you can make your own hot chocolate mix using my recipe for Best Peppermint Hot Chocolate Mix. I would definitely package homemade hot chocolate mix into small plastic zipper bags before adding to the soup bag. It just keeps your soup package nice and neat.
I also like to place the marshmallows, chocolate chips and the peppermint-white chocolate chips in small plastic snack bags because I think it makes a neater presentation.
I packaged ours in quart bags with 2 servings per bag, but you can easily just prepare those for 1. If you can find seasonally packaged hot chocolate mix — such as instant candy cane hot chocolate — those make really cute additions to your soup bag. Unfortunately, I couldn't locate any of those when I started putting this post together. Natch!
I used Picmonkey to design the labels which made it easy for this non-graphic designer person. These are sized for 6-inch wide bags (2100 x 1500 px) and you are welcome to download them for free if you would like. (Here.)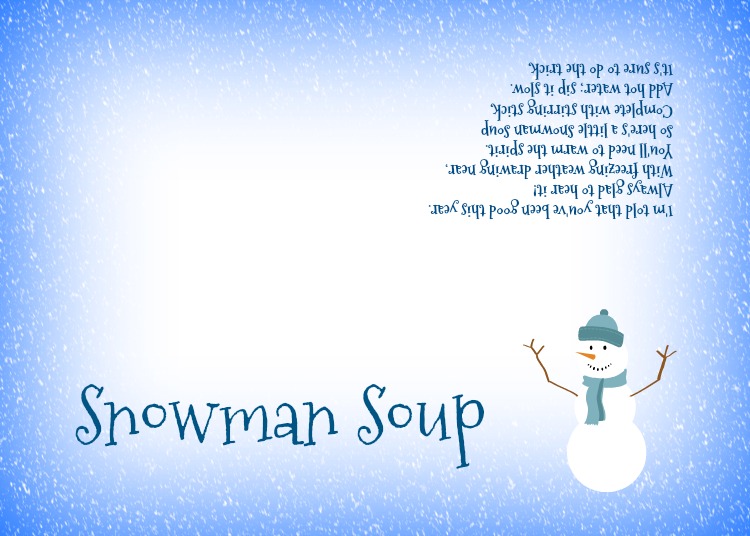 Gifts From the Kitchen: Snowman Soup
Ingredients
12-14 mini marshmallows
2 Tablespoons peppermint-white chocolate chips
2 Tablespoons creme de menthe chips, optional
1 Tablespoon dark chocolate chips
2 packets instant hot chocolate mix
3 - 6 Hershey's Kisses (preferably the peppermint variety)
2 small peppermint candy canes
Instructions
Place marshmallows, peppermint chips, creme de menthe chips and dark chocolate chips in a zipper snack bag; set aside.
Place hot chocolate packets in a quart-sized zipper bag.
Add snack bag of chips to quart bag.
Finish bag with chocolate kisses and candy canes.
Seal and add labels as desired.
https://diningwithdebbie.net/2016/12/15/gifts-from-the-kitchen-snowman-soup/
DiningWithDebbie.net. All Rights Reserved.