I put this Pasta Fagioli Soup Mix together for a THV11 segment on Gifts From the Kitchen, and it has become a huge hit. The full-blown recipe for the soup was one of my slow-cooker posts for Taste Arkansas. I just adapted the soup mix for that, and it was a snap to prepare.
This makes such a nice pantry staple or a legit gift. You can package it in a jar, zipper bag or vacuum-sealed bag. Do yourself a favor and make up several to have on hand for yourself.
If your kiddos are willing, get them in on the action of putting these together. If doesn't matter if they don't exactly follow the layering as you might. It'll be tasty anyway, y'all.
Be sure to attach a copy of the recipe when you give this as a gift.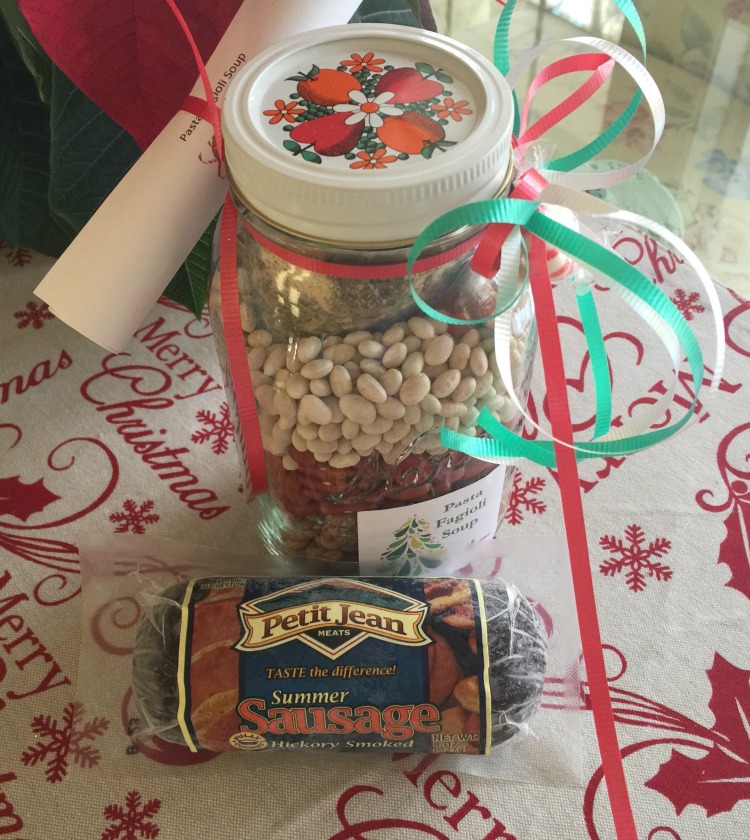 Gifts From the Kitchen: Pasta Fagioli Soup Mix
Ingredients
Soup Mix

3/4 cup dried small navy beans
3/4 cup dried pinto beans
3/4 cup dried kidney beans
1/4 cup dried minced onion
3 Tablespoons dried parsley flakes
1 teaspoon dried basil
1 teaspoon dried oregano
1/2 teaspoon dried, chopped rosemary
1/4 teaspoon dried, minced garlic (or use 2 cloves minced fresh garlic when preparing soup)
1 bay leaf
1/2 teaspoon crushed red pepper flakes
1 1/2 cups uncooked small pasta shells (place in a separate zipper bag)
Additional Ingredients

1 package frozen Pictsweet Seasoning Blend (substitute 1 1/2 cups diced onion, 1 cup diced celery, 1 cup diced red bell pepper)
1 32-ounce container vegetable broth
1 28-ounce can diced tomatoes
3 carrots, thinly sliced
2 cups chopped Petit Jean Means Hickory Smoked Sausage or Ham
Leftover rind of parmesan or 1/3 cup chunks of parmesan
Water
Salt and Pepper to taste
Instructions
Layer soup mix ingredients in container of choice, topping with plastic bag of pasta.
Full instructions for the soup preparation may be found on Taste Arkansas
https://diningwithdebbie.net/2016/12/01/gifts-from-the-kitchen-pasta-fagioli-soup-mix/
DiningWithDebbie.net. All Rights Reserved.