Disclosure: #ad I am a brand ambassador for Riceland Foods. I did not receive paid compensation for this post. However, I did receive product.
I have to admit, the idea of using boil-in-bag brown rice was not something I ever thought I would do. Y'all, I'm sorry and don't mean to offend, but I just do not like that instant rice stuff. I'd rather spend a little more time (without much effort really) to make the full-blown version. Even brown rice is a breeze if you make it by my oven method.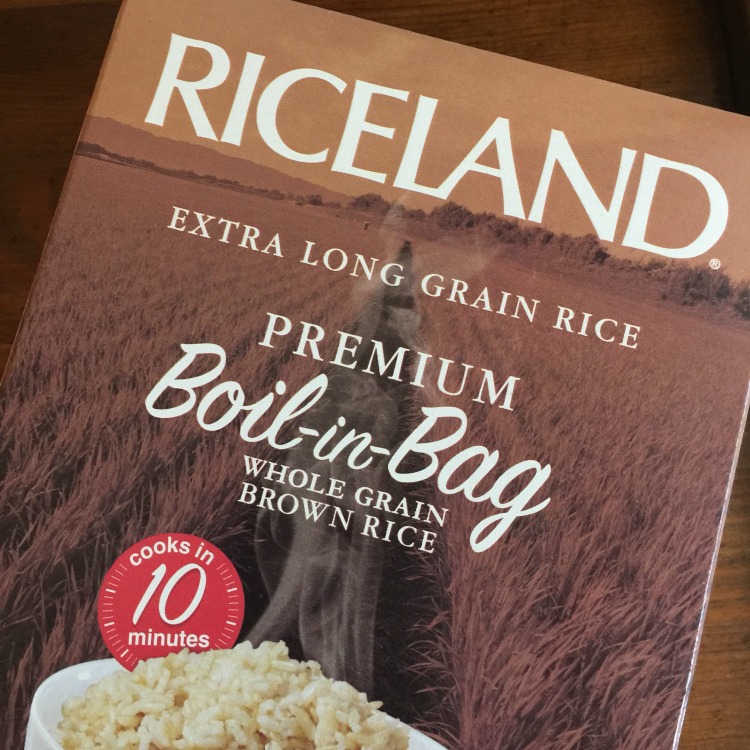 But my friends Stephanie of The Park Wife fame and Robin of Arkansas' own Riceland Foods, were singing the praises of Riceland's new boil-in-bag products, both white and brown. And, when Riceland generously provided attendees at last week's Megaphone Summit Conference in Fayetteville a big bag of their rice products, I decided to give the brown rice boil-in-bag a try.
And, my friends, I am now eating crow. The rice was ready in 10 minutes and truly was good. I will have to be honest and say that I probably still prefer the regular variety, but this is a great product in a pinch or for those who have "brown rice phobia." Plus, it was the perfect plan for this light lunch salad.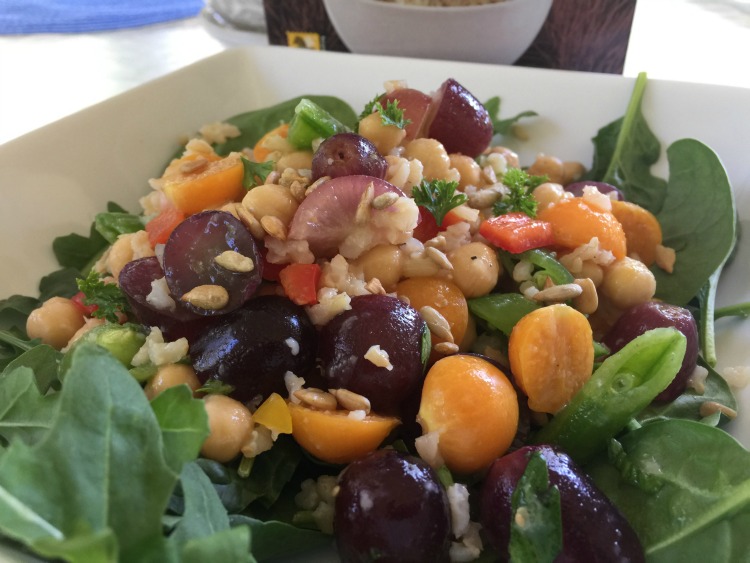 I'll definitely be keeping a box of it in the pantry.
Generally, Hubby and I don't eat three big meals a day so if we know supper/dinner is going to be on the heavy side, then lunch is always light. But it can't be too light or there'll be some serious snacking going on. Not me, of course! There just always seem to bowls of candy or jars of nuts floating around his work place. Plus, you just wouldn't believe the way some of those ladies can cook!
I don't know how we've been so lucky lately, but I've been able to get fresh gooseberries in the market. It's a true love affair. I love, love their hint of tartness and the fact that they are really high in antioxidants but low in calories. If you don't have those, kumquats would work nicely or you could just use all grapes, I think.
Obviously, this is a pretty flexible recipe. So go get yourself a box of this easy-peasy rice and give this salad a try.
Brown Rice Salad with Gooseberries and Grapes
Ingredients
2 bags Riceland Boil-in-Bag Whole Grain Brown Rice
Lemon-Orange Vinaigrette

1/2 cup rice wine vinegar
1/4 cup fresh lemon juice
1/4 cup fresh orange juice
2 Tablespoons Riceland Rice Bran Oil
1 large shallot, minced
1 large clove garlic, minced
Fine zest of 1 lemon
2 Tablespoons honey
1 - 1 1/2 teaspoons Kosher salt
1 teaspoon freshly cracked black pepper
Salad

1 1/2 cups sugar snap peas, sliced on the diagonal
1 15-ounce can garbanzo or canellini beans
1 cup diagonally-sliced celery
1/4 cup flat-leaf parsley, minced
1/2 cup chopped red pepper (or mixed colors)
1 cup halved cape gooseberries (may use all grapes)
1- 1 1/2 cups halved grapes (I like to have a mix.)
3 cups arugula and spinach mix (or greens of choice)
1/4 cup roasted and salted sunflower seeds
Instructions
In a medium-sized pan, prepare rice according to package directions. Empty cooked rice into a medium-sized bowl.
Add 1/2 cup of vinaigrette to rice and mix. Set aside to cool.
Prepare Vinaigrette

In a small bowl, whisk thoroughly vinegar, lemon and orange juices (can use all of one if you prepare), rice bran oil, shallot, garlic, lemon zest, honey, salt and pepper. Set aside.
Salad

Mix together sugar snap peas, beans, celery, parsley, red pepper, gooseberries and grapes.
Add fruit mixture to cooled rice.
Toss salad greens with additional vinaigrette and place in chilled salad bowls. Top with gooseberry and grape mixture.
Garnish with sunflower seeds.
https://diningwithdebbie.net/2016/09/13/brown-rice-salad-with-gooseberries-and-grapes/
DiningWithDebbie.net. All Rights Reserved.