There's only one problem with this lime vinaigrette. Well, maybe two problems.
You really must use fresh lime juice which means you need to have limes on hand. Just a heads up.
It's so doggone good you'll be hunting for more and more ways to use it.
We really, seriously like it on what has to be The Easiest Salad in the Whole Wide World. And it's so darn easy to make, y'all. Got leftover roasted chicken? Deli chicken'll do. How about fresh pineapple? Mango? Maybe some toasted walnuts or sliced almonds? There's your salad.
Oh, bring in some baby arugula and spinach. Or whatever spring blend lettuce you have on hand.
Obviously, I don't have an exact recipe for this salad—you'll just have to figure out what suits you and your family best.
For the two of us, I usually cube about 2 cups chicken, 2-3 cups greens per person, and however much pineapple and mango I want. I toss in some toasted nuts and unsweetened flaked coconut if I have it — keeping with the tropical theme going on, of course.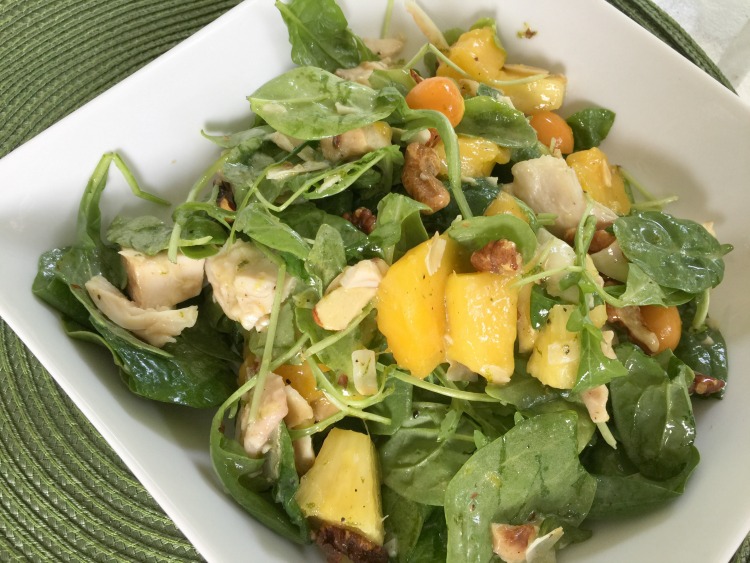 What you'll need for The Easiest Salad in the Whole Wide World
leftover or deli roasted chicken
fresh pineapple
fresh mango
toasted almonds or walnuts
baby arugula and/or spinach
lime vinaigrette
salt and pepper
Then…and here's the very best part. I toss it with this absolutely DE. LIGHT. FUL and DE. LI. CIOUS Lime vinaigrette. It's slightly sweet and slightly tart–the best of both worlds, y'all.
But remember, you absolutely must use fresh lime juice. That stuff in the little fake lime just won't do for this yumminess.
Lime Vinaigrette with The Easiest Salad in the Whole Wide World
Ingredients
Fine zest of 1 lime
1/4 cup fresh lime juice
2 Tablespoons honey
1 teaspoon Dijon mustard
1 garlic clove, finely minced
1/2 teaspoon finely grated fresh ginger
1/2 teaspoon kosher salt
1/4 - 1/2 teaspoon freshly cracked black pepper
3-4 Tablespoons extra virgin olive oil
Instructions
Blend lime zest, juice, honey, mustard, garlic, ginger, salt, black pepper and olive oil.
Whisk to emulsify. Chill until ready to dress salad.
Depending upon how much salad you are making, you may not use all of the dressing. It will keep in the refrigerator 4-5 days.
https://diningwithdebbie.net/2016/08/30/lime-vinaigrette-with-the-easiest-salad-in-the-whole-wide-world/
DiningWithDebbie.net. All Rights Reserved.
I just know you're going to love this lime vinaigrette. How will you use it?