Mornings get hectic, especially during the school year when just about every member of the household, except the cat, has a place to be. Getting a healthy breakfast on the table sometimes seems like a daunting task at best. But, with a little advance prep, it can be done. Promise.
During my years teaching at the middle level, I often saw students arrive with sacks of doughnuts and/or large sugar-laden drinks, sometimes coffee even. While that was a quick, drive-thru solution, it was not a wise one. The temporary high from the sugar most always gave out within an hour or two and those students were either hungry or just too tired to concentrate.
And school breakfasts are sometimes not much better. When kids have the choice of French toast sticks soaked in syrup–and not even maple syrup–over a hard boiled egg and whole wheat toast, what do you think they will choose? Yes, there have been strides made in providing more nutritious options, but all too often right beside those healthy choices are those far more tempting poor ones.
So, what's a parent to do?
And this is where I get on my soap box. Plan. Plan. Plan. And get your kiddos involved in that planning and even in the advance preparations.
Many good breakfast options can be made ahead completely or, at least, prepped ahead so that little time is required for completion. Skipping breakfast, by the way, is NOT an option.
Strive for protein options. Protein is what fills us up and stays with us the longest. Protein doesn't have to be bacon and sausage either. What's wrong with a turkey sandwich for breakfast if your child loves turkey sandwiches? Just make sure that sandwich is made with a whole grain bread.
Does your child love fruit? Peanut or other nut butter? Make a fruit and peanut butter pizza or roll.
How about cheese? Grilled cheese or cheese toast? Quick and filling to be sure.
Cereal? I'm okay with that as long as it's not presweetened and is made from a complex grain. However, cereal as an everyday option, I believe should be avoided. How about oatmeal, quinoa or brown rice instead?
Save those doughnuts and biscuits and gravy for a weekend special splurge.
My segment on THV11 This Morning this week is all about make-ahead options for breakfasts. I'll post the link to that segment as soon as the station does. I will also have a post coming out this week for additional prepped-ahead breakfast options. Come back and check those out.
In the meantime, make up a batch of these Tropical Breakfast Cookies. They are healthy and nutritious and can be made ahead and frozen.
What kid, or adult for that matter, doesn't love the idea of eating cookies for breakfast? Shhh. Just don't tell anyone that they are good for you.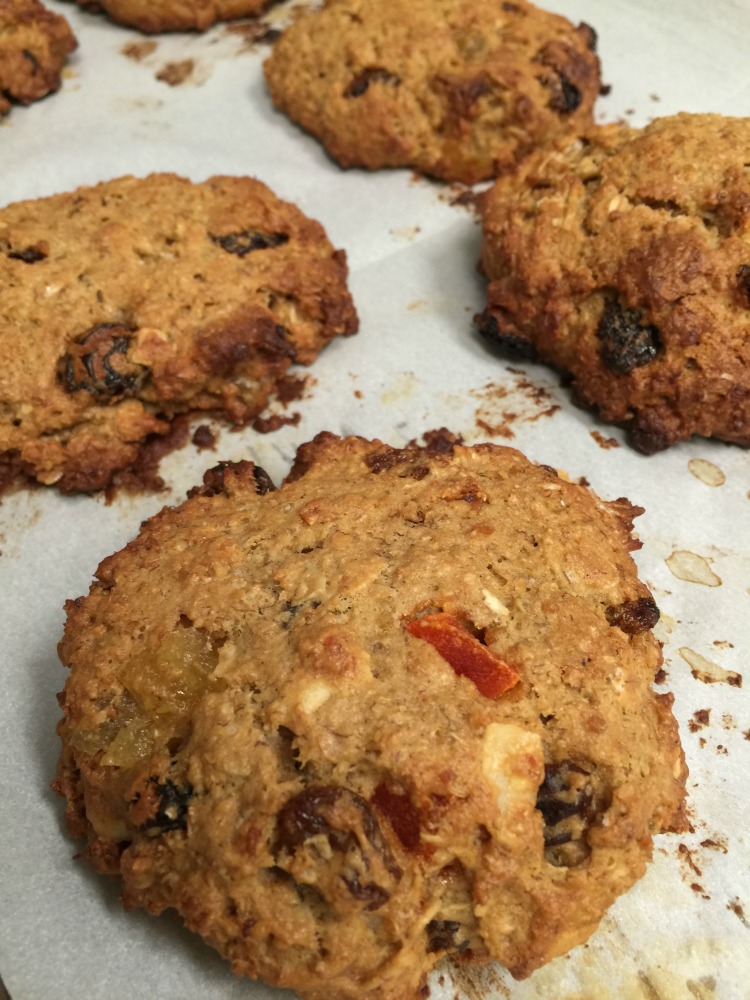 Tropical Breakfast Cookies
Ingredients
1 1/2 cups whole wheat blend flour
1 teaspoon kosher salt
½ teaspoon baking powder
½ teaspoon baking soda
1 very ripe banana
½ cup salted butter, softened but not melted
½ cup packed dark brown sugar
¼ cup honey
2 large eggs
2 teaspoons vanilla extract
1 cup cooked quinoa, cooled to room temperature
1 cup old-fashioned oats
1½ cups dried tropical fruit mix*
Instructions
Prepare quinoa according to package directions.
In a large bowl, whisk together both flour, salt, baking powder, and baking soda.
In the bowl of a stand mixer, beat together the banana, butter, brown sugar, and honey until light and fluffy, about 3 minutes on medium-high.
Add eggs and vanilla, beating until pale and fluffy, about 2 more minutes.
Slowly beat in flour mixture, ½ cup at a time, until dry and wet ingredients are incorporated. Stir in cooked quinoa, oats, and dried fruit just until combined.
Cover and chill 1 hour.
Meanwhile, line baking sheets with parchment paper. Preheat the oven to 375°F.
Lunchbox/Snack Cookies: Roll dough into 1 tablespoon rounded balls. Breakfast Cookies: Use a large ice cream scoop to measure cookies. Press down dough to flatten to about 2 inches in diameter. Place onto prepared baking sheets, 1 inch apart. Slightly press down on each ball to flatten just a bit.
Bake about 8 to 10 minutes or until golden and puffed, yet soft. Cookies might seem not quite done, but they will set upon cooling.
After a few minutes, transfer cookies to wire rack to cool completely.
For best results when freezing breakfast cookies, wrap each completely cooked cookie individually with plastic wrap then place in a freezer zipper bag.
Notes
Note: For sweeter cookies (although I think the dried fruit adds plenty of sweetness), roast the banana to bring out the natural sugars.
Note: May substitute toasted walnuts, almonds, pecans or dark chocolate chips for dried fruit.
https://diningwithdebbie.net/2016/08/21/tropical-breakfast-cookies/
DiningWithDebbie.net. All Rights Reserved.