It's definitely watermelon season in Arkansas. All over the state you'll spot pickups parked on the roadside with full loads of melons. Or maybe someone will pitch a tent and just as a little enticement, cut open a melon or two to tempt the passersby into stopping. And then there are our local farmers markets with melons from Cave City or Hope — or some other spot claiming to have the VERY best melons in the state.
Hope, Arkansas in the southwest corner, is the birthplace of President Bill Clinton and former governor and Presidential candidate Mike Huckabee. But…it's real claim to fame is…the WORLD'S LARGEST WATERMELON. Seriously, y'all.
In fact in 2005, two — yes 2 — championship melons were produced in the same field belonging to the Lloyd Bright family.On Monday, August 29th, a melon registered in the names of Pat Bright Rhodes and Barbara Bright Jones, captured the world's title for heaviest melon weighing in at a whopping 262.6 pounds. That melon broke the record of a 262 pound watermelon grown by a Tennessee man. On Saturday, September 3rd, a melon registered to Lloyd Bright weighed in at 268.8 pounds at the Hope Farm Store. The 268.8 pound melon was certified by Guinness as the world record in the spring of 2006. The Guinness plaque hangs at Dos Loco Gringos Restaurant in Hope.
Each year, Hope and the rest of Arkansas celebrate the watermelon at the annual Hope Watermelon Festival. If you're available August 11-13, there's a full line up of entertainment you should check out.
CAVE CITY WATERMELON FESTIVAL
For 37 years, Cave City in the north central part of the state has been celebrating the WORLD'S SWEETEST WATERMELONS as opposed to the largest. Believe it or not, that festival is scheduled on the very same dates as the one in Hope. Coincidence?
Cave City melon grower Brian Carter, says they've had tests to prove the sweetest claim. "I've eaten other melons and none compare to Cave City melons. We've had the tests done with Hope melons and it's been proven we have the sweetest. We don't care about how big they are, it's all in the taste."
The Cave City festival is free to the public and all proceeds after expenses are donated to Arkansas Children's Hospital.
Maybe instead of "the Natural State," Arkansas should be renamed "the Watermelon State." What do you think?
A recent THV11 This Morning segment will feature watermelon as the key ingredient. (Imagine that!) I hope youl tuned in. If not, catch the video on the THV website.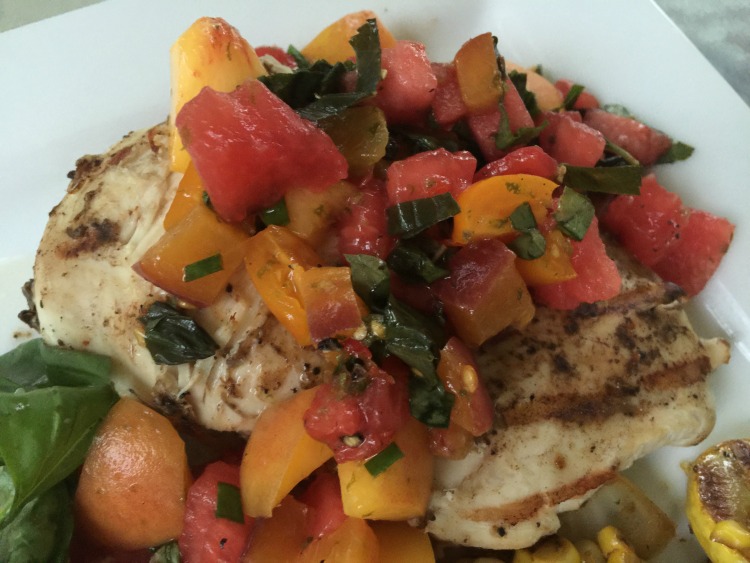 We really like this Watermelon, Peach and Tomato Salsa, especially over chicken or pork. I'm featuring it over grilled jerk chicken, using my favorite Walkerswood Jerk Seasoning. I've used this product for years and can highly recommend it. If you can't find it in your local grocery, be sure to ask your market manager to get it for you. You can also order it online.
Jerk Chicken with Watermelon-Peach-Tomato Salsa
Ingredients
1/2 cup hot pepper jelly,
1 tablespoon lime zest
1/4 cup fresh lime juice
2 cups seeded and diced fresh watermelon, chilled
1 cup peeled and diced fresh peaches
1/3 cup chopped fresh basil or mint
1/3 cup chopped fresh chives
3 cups baby heirloom tomatoes, halved
Salt and freshly ground pepper
Garnish: fresh basil or mint sprigs
Instructions
Warm hot pepper jelly if needed to liquefy; cool to room temperature.
Whisk together pepper jelly, lime zest, and lime juice in a bowl; stir in watermelon and next 3 ingredients.
Season halved baby tomatoes with salt and freshly ground pepper to taste.
Spoon into bowls or cocktail glasses. Top with salsa. Garnish, if desired.
Notes
I used homemade hot pepper jelly -- you just knew I would --- but you can purchase it in the market as well. I don't use one of my habanero varieties with this salsa since the jerk seasoning has heat already.
Not everybody in my family likes to have HIS mouth on fire like I do:)
https://diningwithdebbie.net/2016/07/24/jerk-chicken-with-watermelon-peach-tomato-salsa/
DiningWithDebbie.net. All Rights Reserved.