I've been on a roll making cupcakes lately, y'all. A couple of weeks ago, I made about 200 for the Single Parent Scholarship Luncheon in our area, and I hope to be posting some of those soon.
It's been crazy busy around our house. I'm sure you have times like that as well.
We just got home from a week in Bar Harbor, Maine. What a beautiful place! Hubby was all involved in a conference so I had time to roam the area by myself for a bit. He and I were able to do a lighthouse tour together one day, but I also did a lobster and seal excursion and a whale watching tour. Lots of lobsters, seals and lighthouses. Some puffins. No whales.
Oh well, the water and days were gorgeous.
And the lobster! I learned so much about lobster fishing and lobster eating. But I'm saving those tales for another post 'cause they really don't have much to do with Coconut Cream Cupcakes at all:)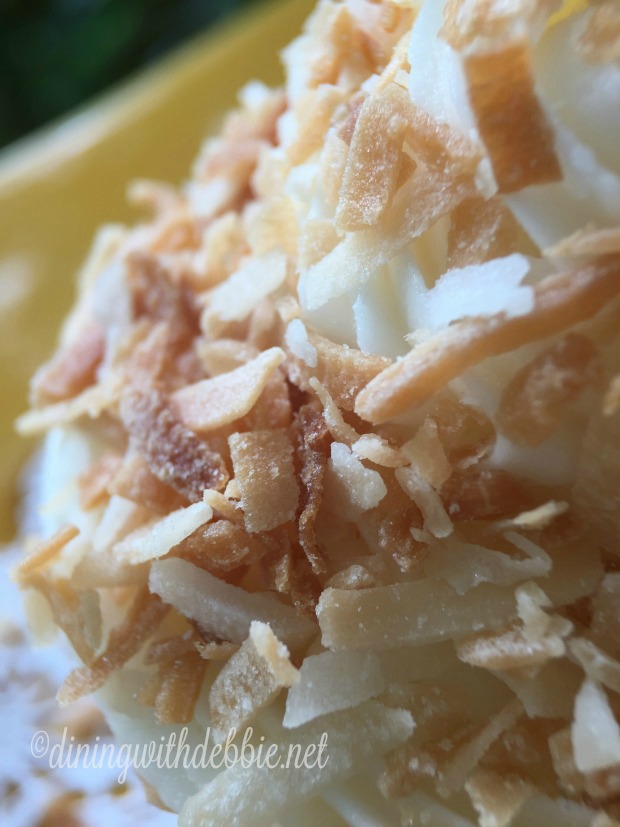 I made these cupcakes for the Single Parent Scholarship Luncheon, but I also made them this week for our church community group cookout. I prefer making larger cupcakes, but I find this size to be good when they accompany dinner.
It's just that the cupcake liners for regular cupcake tins are just too dang small, and the large ones are too large and too small at the same time for my jumbo pans. It's a conundrum for sure.
Perhaps I should go into the cupcake liner designer business. What do you think?
I've really worked to get more coconut flavor into these. The recipe is pretty much a basic one I use for most cupcakes with flavor variations introduced. I do make cupcakes from scratch frequently, but this basic one uses a Duncan Hines® white cake mix.
I'm not apologizing for that either. It makes life easier at times.
I usually garnish them with toasted coconut, but you could also use toasted pecans if you prefer. Heck. Just garnish with both.
Either way, just make these. Your family will think you've gone to all kinds of trouble.
A Little Frosting Tip
Oh, here's a little hint for you if you want to use a piping bag when frosting these. Prepare a piping bag, disposable is fine, with your preferred tip.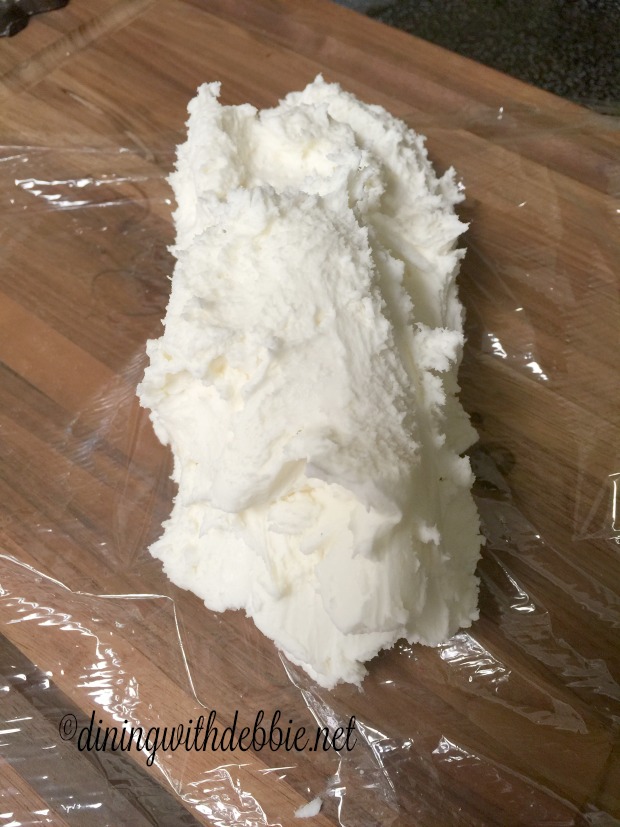 Lay out a sheet of plastic wrap flat on the counter, add in the desired amount of prepared frosting leaving about 1/2 inch on one end and a couple of inches on the other (width wise).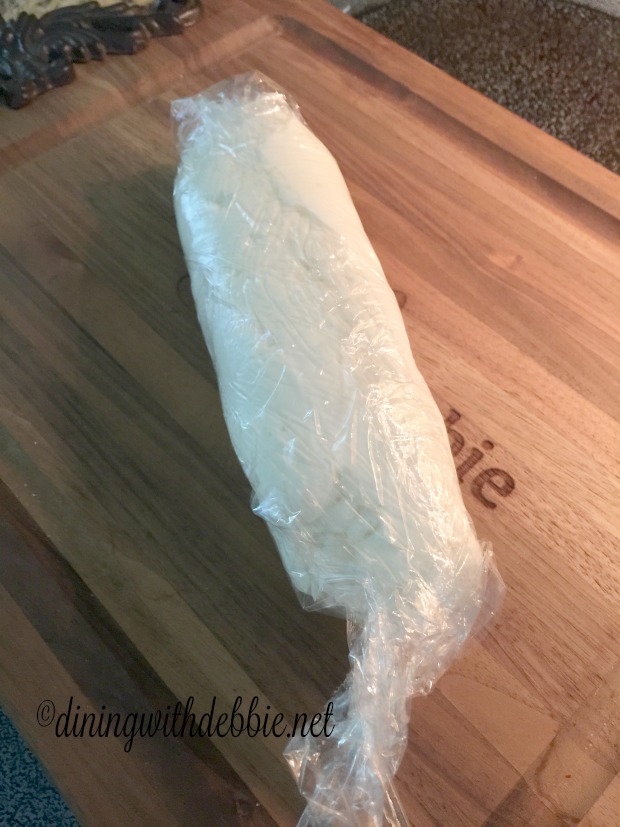 Roll the plastic wrap around the frosting, gently squeezing as you go to remove air bubble. Twist the longer end and place the tube of frosting in your piping bag. Gently shake the plastic-wrapped frosting tube down into the piping tube and begin twisting the top to get the frosting to the decorating tip.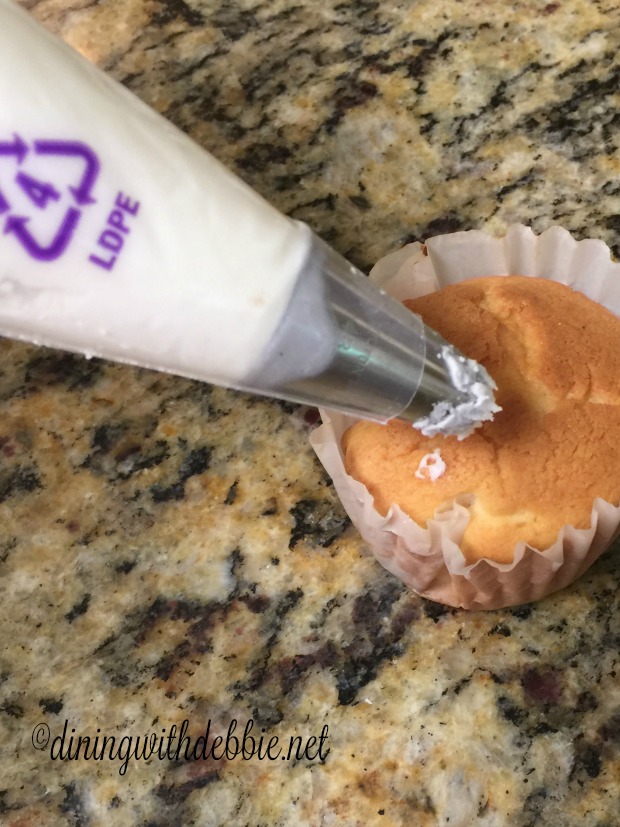 Repeat as needed until all of your cupcakes, cookies or cakes are done.
Pure genius. Clean up is a snap!
You're gonna' love me for that. Promise.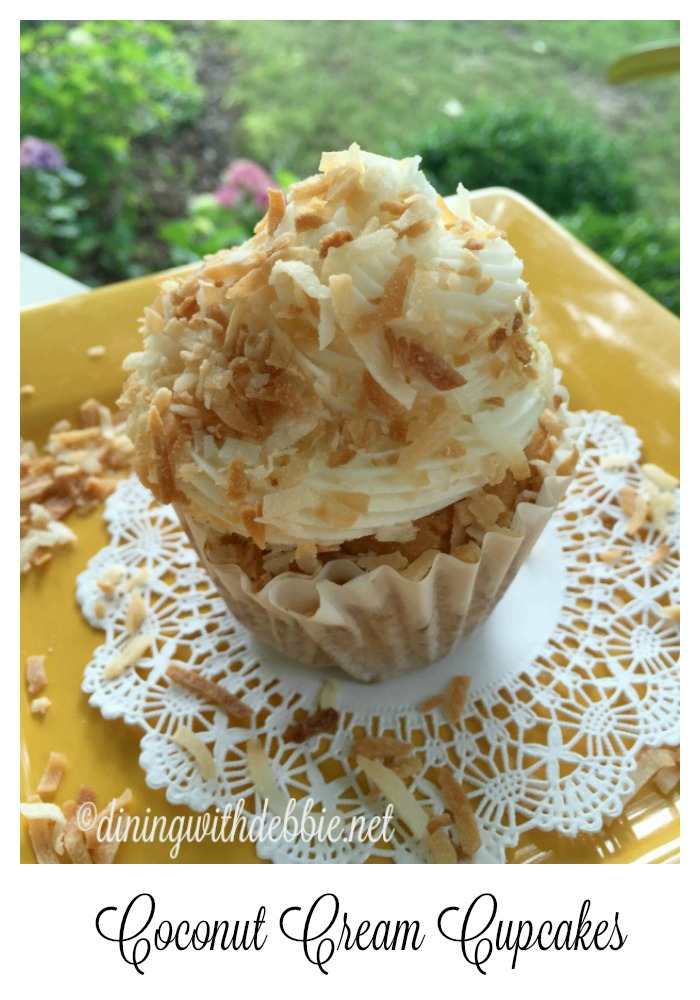 Coconut Cream Cupcakes with Coconut Buttercream Frosting
Ingredients
Cake

1 15.25-ounce Duncan Hines™Classic White cake mix
3 Tablespoons all-purpose flour
1 3.4-ounce package Jello™Coconut Cream Instant Pudding & Pie Filling
1/2 teaspoon salt
1 cup water
1/2 cup coconut oil
2 teaspoons coconut extract
1/2 cup whole milk or heavy cream
4 egg whites at room temperature
Frosting

1/2 cup solid vegetable shortening, at room temperature*
1/2 cup unsalted butter, at room remperature
1 teaspoon coconut extract
4 cups sifted confectioners' sugar
2 tablespoons heavy cream
Optional: toasted coconut and/or finely chopped toasted pecans
Instructions
Cake

Preheat oven to 250 degrees. Prepare cupcake pans with liners and spray with just a little nonstick cooking spray.
In the bowl of an electric mixer, whisk together cake mix, flour, pudding mix and salt.
Continue to beat at medium speed while adding in water, coconut oil and coconut extract and milk/cream.
Add in egg whites one at a time and mix thoroughly.
Frosting

In large bowl, beat shortening and butter with electric mixer until light and fluffy. Beat in coconut extract
Gradually add powdered sugar, one cup at a time, beating well on medium speed. Scrape sides and bottom of bowl often. When all sugar has been mixed in, icing will appear dry.
Gradually add cream; beat at medium speed until light and fluffy.
For thinner consistency frosting, add 2 tablespoons light corn syrup, water or cream.
Frost cupcakes as desired. Garnish with toasted sweetened coconut and/or pecans if desired.
Notes
*You can use all butter if you prefer. The icing tends to be softer so you may need to add in more powdered sugar, especially if you are using decorating tips and bags.
After frosting cupcakes, allow to air dry for several hours in order for frosting to "crust."
https://diningwithdebbie.net/2016/06/03/coconut-cream-cupcakes-with-coconut-buttercream-frosting/
DiningWithDebbie.net. All Rights Reserved.
To Toast Coconut
Preheat oven to 300°F.
Spread coconut flakes on a baking sheet in a thin layer and bake in preheated oven. The flakes will toast quickly and won't take more than 10-15 minutes.
Every few minutes stir the coconut to help ensure even color. Sweetened flakes will take less time because sugar speeds up the toasting process.
Watch carefully as the coconut can burn easily.
#letsbreakbread