***SITE UNDER RECONSTRUCTION***
#CookingWithGerber
Disclosure: This post is sponsored through the Gerber Cereal Influence program in cooperation with The Women Bloggers, Kendal-King Group @SoapboxKKG and #SoapboxInfluence. As always, all opinions expressed here are my own–and you just know I have opinions!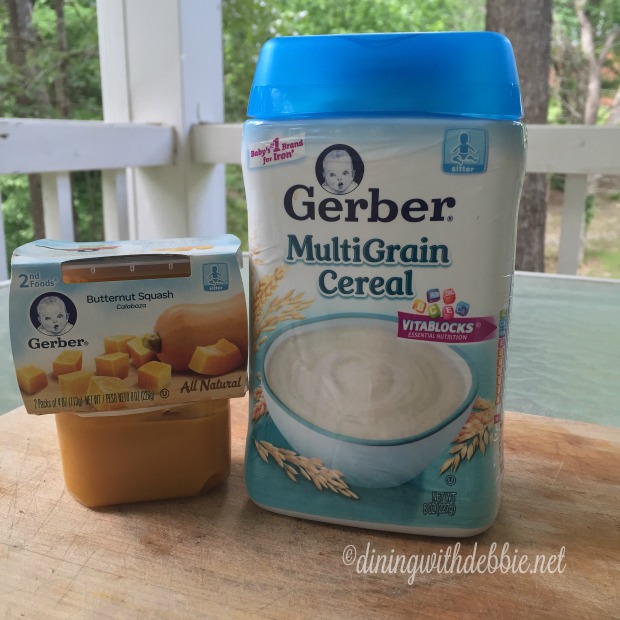 Recently, I had the opportunity to do a little recipe testing and development with my sweet friend, Jenny Marrs of Blessings and Raindrops. She and I were invited to the Nestle USA kitchen in Rogers where we used various baby and toddler foods to recreate and sample recipes from the Gerber Cereal Recipe Program.
We had such fun, y'all! Jenny and I chose our dishes and jumped right in as if it was something we did on a daily basis — test kitchen-wise, that is. Jenny has a houseful of kiddos she has to feed and well, I like to cook!
We ended up with lots of "helpers" not only in the preparation, but there were a few observers who were easily convinced to become the taste testers! Needless to say, there weren't any leftovers when we finished that afternoon.
So that's the background for why I'm telling you all about these Baby-Lovin' Italian Turkey Meatballs.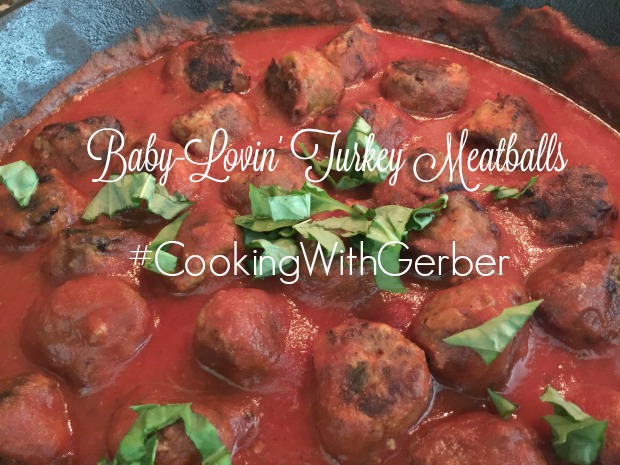 But I have a twist. You just knew I would, didn't you?
If you have little ones you are transitioning to table foods, these meatballs are sure to be a hit. It's a very tasty little meatball, and it can easily be adapted to appeal to older children and adults without much effort at all.
TIPS from Gerber:
Test temperature before serving.

For a denser meatball, add more cereal

Add herbs and spices your little one loves to the meat sauce.

If your child dislikes spices,

you can easily omit them
THOUGHTS from me:
The Gerber cookbook recipe makes approximately 10-12 mini-meatballs. Honestly, I think a toddler would probably eat at least 2 and a preschooler probably 3-4.
Depending upon the size and composition of your family, double or triple the meat and double the other ingredients. The first time I made these, I only used turkey (chicken would also work) which works well for the little ones. The addition of the mild Italian sausage was a good addition for the bigger folks.

Sauté

1/4 cup minced celery, 1/4 cup minced onion and 1/4 cup minced bell pepper until tender. (or more depending upon your preference) Add this vegetable mixture to the meatball mixture when preparing them for other-than-baby family members.
You could easily add parboiled finely shredded and diced carrots to the meatball mixture. I like to think of all kinds of creative ways to get more vegetables into our diets.
Make the meatballs larger, if you want, for the older kiddos and family members–although the mini ones are kinda' cute, y'all:)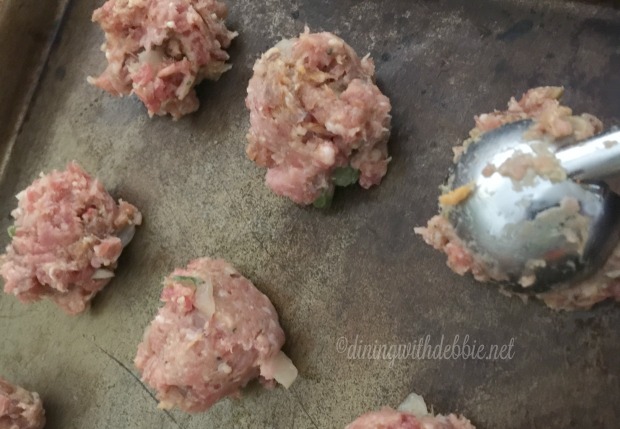 Use a small ice cream scoop to make uniform meatballs. Chill at least 30 minutes before browning. Or, flash freeze and store in a freezer bag until ready to use. They cook in minutes.
Why not serve these over pasta, rice or with mixed vegetables? How about vegetable spirals with zucchini?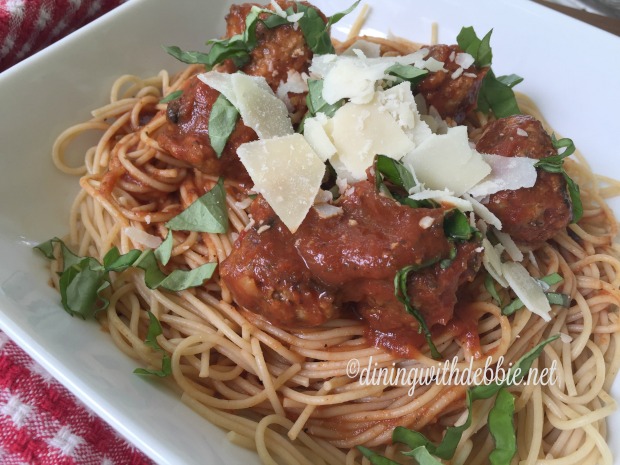 I bet you could share some really creative additions with me. Please do!
Here's a fun idea.
Have a party! These meatballs would make a super party appetizer. I added freshly grated Parmesan and kicked up the spices, including adding some crushed Aleppo pepper.
Sprinkle with additional freshly grated Parmesan and shreds of Genovese basil. Accompany the meatballs with some of the sauce and small pieces of garlic bread, if desired.
They'll be gobbled up in no time guys.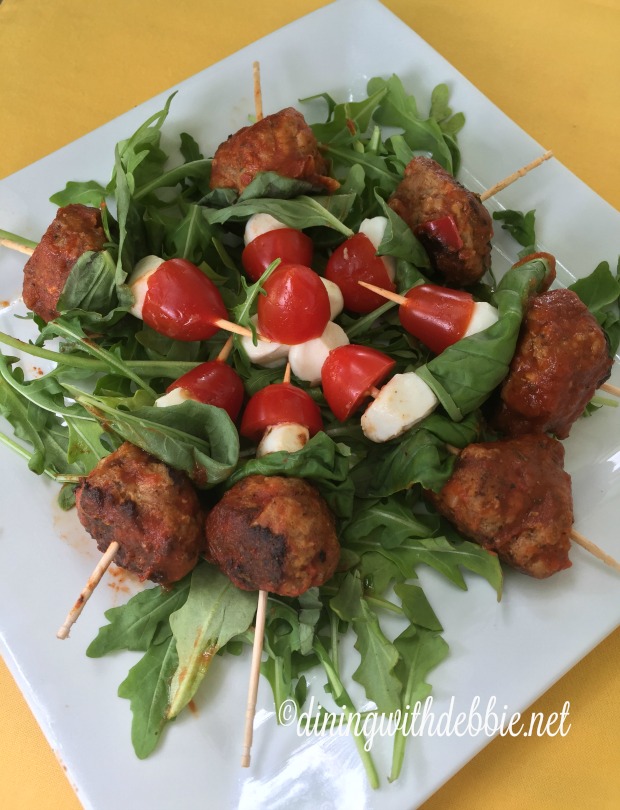 Now, before you can say, "Why in the world is she trying to get me to eat baby food?" just think how easy it is to adapt this recipe so that your entire family, including that little-bitty one can share basically the same meal.
And a healthy choice meal it is. Turkey is lean. The cereal is high-fiber, high nutrient, fortified, and then there's the veggies.
Win-Win, y'all.
Give it a try and let me know what you think.
Did somebody say pizza?
Do your kiddos gobble up pizza like the ones in our family? Then they're gonna' love making pizza with these mini-meatballs, a slice of naan, a little of the tomato sauce, some mozzarella or cheese of your choice, I like to top my cooked pizza with some fresh arugula.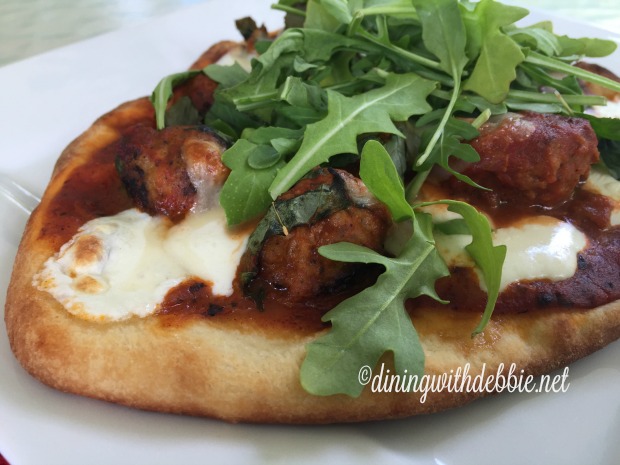 Preheat a pizza stone in a 400 degree oven. Place prepared pizza on the stone and bake until cheese is melted, 5 – 10 minutes. You could also grill these if you prefer.
Let the kids make their own. Even your toddler can get in on the action. After a few minutes in the oven or on the grill and you will have yourself (errr your children rather) one delicious, quick, easy and healthy pizza.
Baby-Lovin' Italian Turkey Meatballs (Big Kid Version)
This recipe is adapted from the Gerber Cereal Recipe Program. It is part of a #sponsored post, but all opinions about it are my own. As always!
**Meatballs may be baked in a 375 degree oven about 10 minutes (minis).
Ingredients
1/3 cup finely minced onion
1/3 cup finely minced celery
1/3 cup finely minced bell pepper
1 pound lean ground turkey
1 pound mild Italian sausage
1/2 cup plus 2 tablespoons GERBER MultiGrain Cereal
2 cloves garlic, minced
1 large egg plus 1 egg yolk
1 teaspoon crushed dried oregano (or 2 teaspoons finely minced fresh oregano)
1 teaspoon crushed dried basil (or 2 teaspoons finely minced fresh basil)
1/2 cup grated Parmesan, optional
1 tablespoon extra-virgin olive oil
8-ounces tomato sauce
28 ounces crushed tomatoes
2 teaspoons crushed Italian seasoning
1 teaspoon red pepper flakes
1 container (3.5 ounces) 2nd Foods® Squash (or Mixed Vegetables)
Fresh basil
Salt and pepper to taste
Instructions
In a large cast-iron skillet, heat 1 Tablespoon olive oil over medium-high heat. Sauté onion, celery and bell pepper until soft. Set aside to cool.
In a medium mixing bowl, combine turkey, Italian sausage, cooled vegetable sauté, cereal, garlic, egg, oregano and basil lightly but thoroughly.
Form into one inch balls (or larger if you prefer).
Chill meatballs in the refrigerator at least 30 minutes prior to browning.
In a medium skillet, heat oil over medium heat in a medium skillet. Add meatballs and cook 30-40 seconds on top and bottom or until lightly golden.**
Remove from skillet to a paper towel-lined plate.
Add tomato sauce, crushed tomatoes, Italian seasoning, red pepper flakes and squash to skillet and heat over medium; allow to simmer 10-15 minutes to thicken.
Add meatballs and gently stir to combine.
Cover and cook for 5 minutes or until cooked through.
Season to taste with salt and pepper.
Serve over pasta and garnish with chiffonade of basil.
https://diningwithdebbie.net/2016/05/18/baby-lovin-turkey-meatballs/
DiningWithDebbie.net. All Rights Reserved.
Be sure to follow #CookingWithGerber for additional ideas for adapting Gerber products into your family's diet. There are some really amazing dishes being created, y'all. In the meantime, check out this website for additional ideas.