When Hubby smokes a pork butt (Why is it called a butt when it's actually a shoulder?), there's only so much of it we can eat as barbecue sandwiches which is typically what we do. So I've learned to come up with some pretty interesting variations like these Smoked Pork Enchiladas.
I mean. They combine some of our favorite flavors and come together quickly and easily. I generally use canned enchilada sauce, but do whatever floats your boat as far as that is concerned. It's really simple to make from scratch so I should probably make mine, but sometimes…well, ya' know.
This recipe typically makes about 6 enchiladas, but it may stretch to as many as 8 depending upon how full you make them. For us, 2 enchiladas make a generous serving. Freeze the rest or, even better, share with a neighbor.
I also like using a small amount of the shredded smoked pork in my chili, but I'm hoping chili season is about over around here. Since I am definitely not a cold weather person, I'm really ready for Spring and gardening season.
How about you? Do you have any great ideas for using up leftover smoked pork? Please share.
#letsbreakbread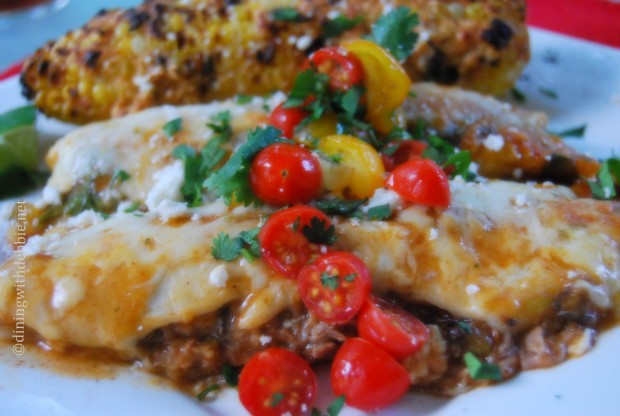 Ingredients
2 cups leftover shredded smoked pork butt
1/2 cup chopped onions
2 10-ounce cans enchilada sauce
1 teaspoon ground smoked chipotle pepper
1/4 teaspoon garlic powder
1/2 teaspoon ground cumin
1cup Mexican Crema (or sour cream)
1 4-ounce can chopped jalapenos (or equal amount fresh)
2 cups freshly shredded Colby-Monterey Jack cheese
6 - 8 7-inch flour tortillas
chopped cilantro as garnish
halved cherry tomatoes as garnish
Instructions
Preheat an oven to 350 degrees F. Spray a 9 x 13-inch baking dish with nonstick spray; set aside.
Sauté chopped onions in 1 Tablespoon canola oil until tender; set aside.
Combine cooked pork, sauteéd onions, 1 can enchilada sauce, smoked chipotle, garlic powder, crema, jalapenos and one cup of the shredded cheese in a large bowl.
Pour a thin layer of plain enchilada sauce in the 9x13 baking dish.
Spread pork mixture down the center of each tortilla. Roll tortillas to enclose filling; place seam side down in the baking dish.
Pour the remaining enchilada sauce over the filled tortillas. Top with the remaining 1 cup cheese.
Bake in preheated oven until hot and bubbly, about 30 minutes.
Garnish with chopped cilantro and cherry tomatoes before serving.
Notes
Optional additions: sliced black olives on top of the cheese topping and sliced green onions as garnish.
https://diningwithdebbie.net/2016/03/22/smoked-pork-enchiladas/
DiningWithDebbie.net. All Rights Reserved.