#letsbreakbread
So I have a deep and abiding adoration for all things lemon, especially Meyer lemon. And when you add in royal reds (I get these at Joe Patti's, my seafood heaven!), oh my goodness. Plus there's vermicelli (substitute angel hair/capellini/tagliolini). And like chili and gumbo, I can't make just a little.
Which suits us just fine because leftovers are so, so good anyway.
Freezing Citrus
Did you know you can freeze citrus for later use? I'm not talking about eating it as fresh fruit, but using it for the zest and juice. It works like a jewel. There are all kinds of ideas on how to freeze citrus romping around out on the internet. Me? I just toss the whole fruit in a freezer bag and put it in the freezer. When I get ready to use it, I take a piece out of the bag and let it thaw and come to room temperature. Voila! I have fresh zest and juice. When blood oranges, key limes or Meyer lemons are in season, this is my go-to trick for having them when I need them.
You do know to always zest your citrus before juicing it, right? Then either dry or freeze the zest for later use. Citrus zest adds a bright touch to many, many dishes — cakes, cookies, rice, pancakes, waffles, tea — just give it a try and see what you think.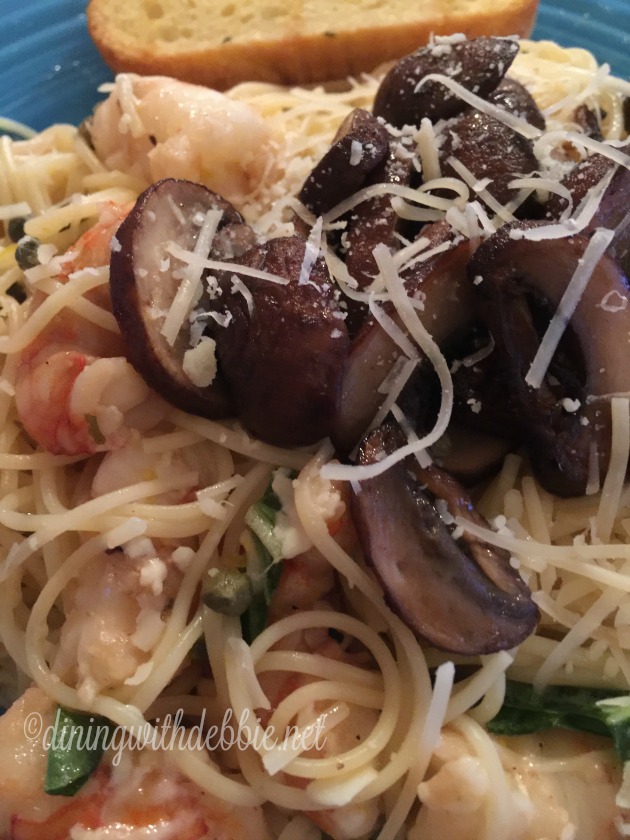 This pasta dish is light and full of flavor. If you don't have or don't care for shrimp, try it with chicken. It works quite well.
Meyer Lemon Vermicelli with Royal Reds
Ingredients
Shrimp

1 Tablespoon extra-virgin olive oil
2 Tablespoons unsalted butter
2 teaspoons minced garlic
3/4 pound Royal Red shrimp, peeled and deveined (may substitute Gulf shrimp or chicken)
1/4 teaspoon kosher salt
1/4 teaspoon freshly cracked black pepper
Pasta

1 pound vermicelli
2/3 cup extra-virgin olive oil
2/3 cup freshy shaved Parmesan, plus more as garnish
fine zest of one Meyer lemon
1/2 cup fresh Meyer lemon juice (about 2 large lemons)
1/2 teaspoon kosher salt
1/3 cup shredded fresh basil leaves
2 Tablespoons capers (or more)
8 ounces thinly sliced portopello mushrooms, sauteed in 1 Tablespoon olive oil and 1 Tablespoon unsalted butter, optional
Instructions
Shrimp

In a medium skillet, heat the olive oil and butter over medium-high heat. Add the garlic and shrimp in a single layer and cook until pink and cooked through, about 3 minutes per side. (Royal Reds will already be pink but the opaque flesh turns white.)
Sprinkle with salt and pepper
Pasta

Cook the pasta in a l pot of boiling salted water until tender but still firm to the bite, stirring occasionally to prevent sticking, about 4-5 minutes.
While the pasta is cooking, whisk together the olive oil, Parmesan, lemon zest and juice in bowl; set aside.
Drain the pasta, reserving the pasta water.
Return the drained pasta to the pot; stir in the lemon sauce, shrimp and about 1/4 - 1/3 cup pasta water to thicken.
Add the salt, pepper and basil and toss.
Stir in capers and serve topped with additional shaved Parmesan and sauteed mushrooms. if desired.
Notes
Chicken breast may be substituted for shrimp, if desired. Cut 2 boneless, skinless chicken breasts crosswise into strips.
If you don't have Royal Reds, use any large, fresh Gulf shrimp.
You may substitute regular lemons for the Meyer lemons, but the flavor will be more "lemony."
https://diningwithdebbie.net/2016/03/17/meyer-lemon-vermicelli-royal-reds/
DiningWithDebbie.net. All Rights Reserved.