You could make this sausage totally from scratch, but I take the easy way out with it myself. Our Arkansas-based Petit Jean Meats makes an excellent pork sausage (I am not receiving compensation for this post.), but occasionally I like to "fancy" it up just a bit. I've told you before how much I love working with Arkansas Black apples so it didn't take me long to figure out how to use them to enhance our favorite breakfast sausage.
If you don't care for added heat in your sausage, leave out or reduce the red pepper flakes. Me? I could even add more!
This sausage makes such a nice addition to your breakfast or brinner menu when served along side pancakes, waffles or buttermilk biscuits, but I'm telling ya' try it with my homemade Pumpkin Biscuits. Pure nirvana. And if you really want a little decadence, spoon on some Maple-Pecan Butter.
Then go walk or run a few miles. It'll be so worth it.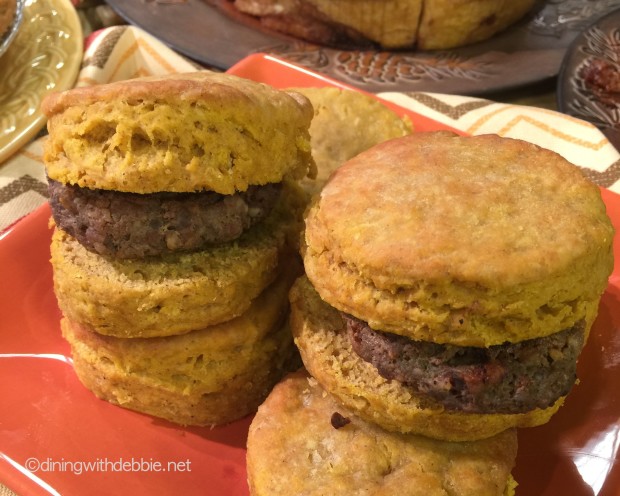 Easy Pork Sausage and Apple Breakfast Patties
Ingredients
1 Tablespoon canola oil
1/3 cup minced onion
1/3 cup minced celery
1 pound Petit Jean Meats pork sausage
1 teaspoon crushed red pepper flakes (or more to taste)
1 teaspoon rubbed sage
1 teaspoon ground fennel
1/4 teaspoon freshly ground black pepper
1 Granny Smith or Arkansas Black apple, finely chopped
Instructions
In a medium skillet, heat oil of medium-high heat. Saute onion and celery just until tender; set aside to cool completely.
In a large mixing bowl, combine pork sausage, red pepper flakes, sage, fennel and black pepper with hands just until mixed well.
Gently fold in onion and celery mixture; fold in chopped apples.
Form into patties of desired size; chill for 10 minutes in the refrigerator.
Preheat oven to 350 degrees; line a baking sheet with aluminum foil and spray with nonstick spray.
Bake patties for approximately 20-30 minutes until done. Brown in cast iron skillet, if desired.
Serve warm.
Notes
I usually cook all of these at one time and freeze what I do not immediately use. I thaw them in the refrigerator the night before using and just reheat in the microwave. Sometimes I rewarm them by placing in the oven during the last 10 minutes white the biscuits are baking.
https://diningwithdebbie.net/2015/11/06/easy-pork-sausage-and-apple-patties/
DiningWithDebbie.net. All Rights Reserved.