One of the recipes I shared this week on THV11 was this one for Green Tomato Muffins. Y'all (there I go again), these are really tasty believe it or not! Be sure to give them a try. They freeze very well so you can make up a batch this fall when you have green tomatoes still on the vine just in time for that first real frost.
Can you believe it's about to be autumn already?
In case you missed it, here's the video from the Tuesday, August 11 segment on THV11 This Morning where Ashley Blackstone and I were Talking Tomatoes.

You can find the recipe for the Cannellini Bean and Tomato Salad with Dill and Basil on the station's web site. For additional ideas for tomatoes, check out the list I posted just the other day. Believe me, I could have listed tons more.
What are some of your favorite tomato-based recipes? I'd love to come check them out and add them to the list.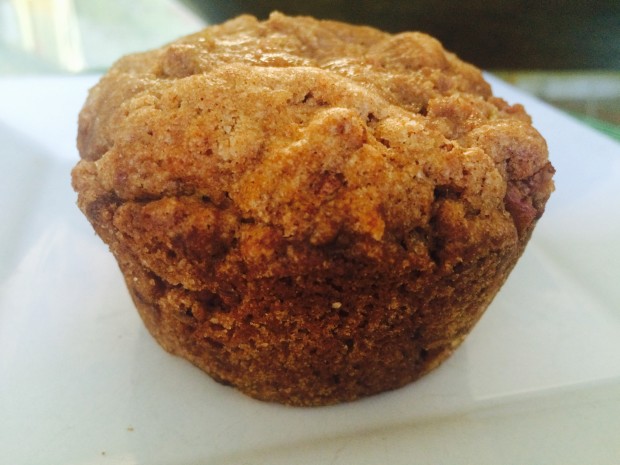 Green Tomato Muffins
2015-08-13 07:18:07
Muffins
3 cups all-purpose flour
1/4 teaspoon baking powder
1 teaspoon baking soda
1 teaspoon kosher salt
1 1/2 cups granulated sugar
1/2 cup firmly packed dark brown sugar
1 Tablespoon cinnamon
2 eggs, lightly beaten
1 cup canola oil
1 cup buttermilk
1 teaspoon vanilla extract
2 cups finely chopped green tomatoes
1 3/4 cups chopped pecans or walnuts, lightly toasted
Streusel topping
2/3 cup dark brown sugar
1/4 cup all-purpose flour
1/4 teaspoon cinnamon
2 Tablespoons softened unsalted butter
Instructions
Preheat oven to 350 degrees. Spray large muffin pans with nonstick spray and lightly dust with Wondra.
In a large mixing bowl, combine flour, baking powder, baking soda, salt, sugar and cinnamon; set aside.
Whisk together the eggs, buttermilk, and vanilla. Add to the dry ingredients, stirring just until moistened.
Fold in the tomatoes and the nuts.
Spoon the batter into the prepared muffin tins; sprinkle the tops with the prepared streusel topping.
Bake at 350 degrees for about 30 minutes.
Topping
Mix together the dark brown sugar, 1/4 cup flour, cinnamon and softened butter with a fork.
Spoon over the tops of the muffins. Do not use excessive streusel or the muffins will flatten. You may have streusel topping left over.
Notes
Wrapped individually in plastic wrap and stored in a gallon freezer bag, these muffins with keep very well 3-4 months. They make nice lunchbox treats and are really nice to have on hand for breakfast.
Dining With Debbie http://diningwithdebbie.net/