I always loved doing seasonal food, craft and art projects with our daughter. We made our weights in pine cone bird feeders which she delivered all around the neighborhood. We hung "dressed up" goody Easter eggs from every available branch in the yard. There were a zillion dough angels at Christmas. While we never got around to raising real live chicks, we did make these Easter chicks a lot. A. Whole. Lot.
You can find variations of these little nesting chicks all over Pinterest and blogs so they aren't entirely new creations. It doesn't matter if they aren't exactly perfect (as evidenced by the chocolate-spotted chicks here). What matters is that you do these with those special kiddos in your life. It's an opportunity to share about new life. New creations. God's creations.
And you don't have to debate which came first either. Chicken. Egg. It really doesn't matter.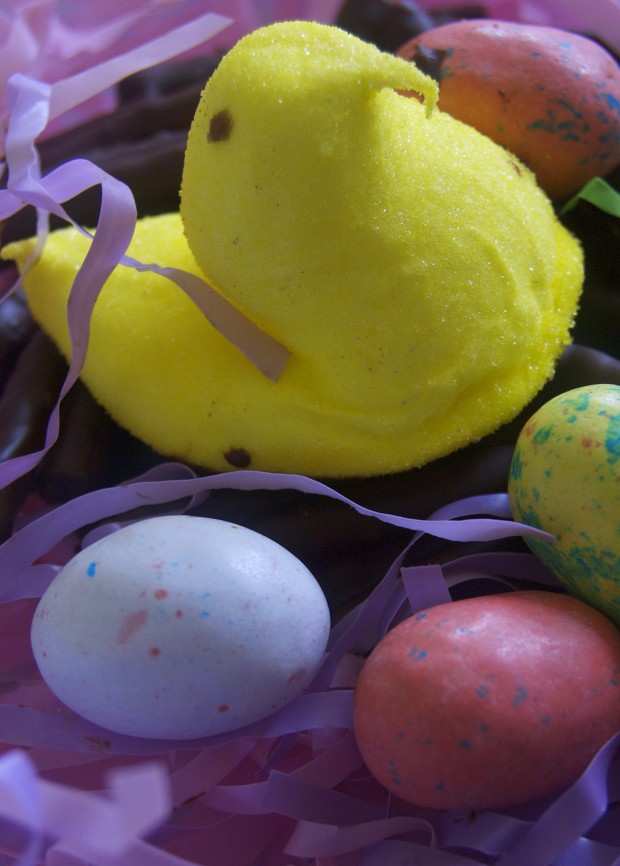 I'll be making these Easter chicks and their nests this weekend with the grands. Perfect Girl will hang in there until the last pretzel is coated and the last egg is laid. Perfect Boy, who although he loves a good food project, will maybe work through one or two before he declares the job well done.
We'll also be making Our Everyday Dinners' Resurrection Rolls. This is such a super simple and easy way to visual demonstrate the story of the Resurrection with little ones. If you've not done this before with your specials, I hope you'll consider doing that before Easter Sunday. Of course, it doesn't have to be just an Easter-time story.
It looks like our Easter Sunday will be on the chilly side. It's been in the 70s all week. Natch. That's just Arkansas weather, ya'll:)
Oh well, the trees are budding. The birds are busily building their nests and the forsythia is in full bloom. Lettuce is abundant in the garden and my asparagus crowns are ready to be planted. It's Spring and I love it.
Easter Chicks
2015-04-02 08:18:24
Ingredients
8 ounces pretzel sticks
8 ounces semi-sweet or dark chocolate (chips are fine)
Peeps, M & Ms or Malted eggs, Jelly Beans
Instructions
Line a large baking sheet with aluminum foil or parchment paper coated with cooking spray.
Melt the chocolate over low heat in double broiler, stirring frequently until smooth.
Stir pretzels into the chocolate, stirring well to combine. Using two dinner forks, place a mound of pretzels (after allowing excess chocolate to drain) on prepared cookie sheet, forming a small nest. Let cool for a few minutes before placing candy and chicks on the top.
Put the baking sheet in the refrigerator until nests are set.
To serve, carefully lift a nest off of the baking sheet and set on top of some fake Easter grass, if desired.
Notes
Chocolate can also be melted in the microwave, 30 seconds at a time, stirring frequently until totally melted and smooth.
Breaking the pretzels in half makes for smaller nests which are easier for small children to make.
Dining With Debbie http://diningwithdebbie.net/
Here are a few other fun kiddo Easter food projects that I thought were really cute and easy:
Jelly Bean Bracelets (not just for Easter)
And from my friend, Amy, at Our Everyday Dinners Resurrection Rolls