Are you totally "deflated" over the latest Super Bowl fiasco? (Sorry. Just couldn't resist). Feasting on a few of these quick and easy Tortellini Caprese Skewers is sure to be a winning pleasure, and you won't even have to choose up sides to enjoy them.
You may remember that I made these in December for my THV11 session on Make-Ahead Appetizers for your holiday festivities. Well, why not enjoy these year-round for whatever "special" event you might be hosting?
So who do you predict will win? Patriots? Seahawks?
I have no idea what the Las Vegas line is on either team but I do know that these skewers are sure to hit the jackpot with you!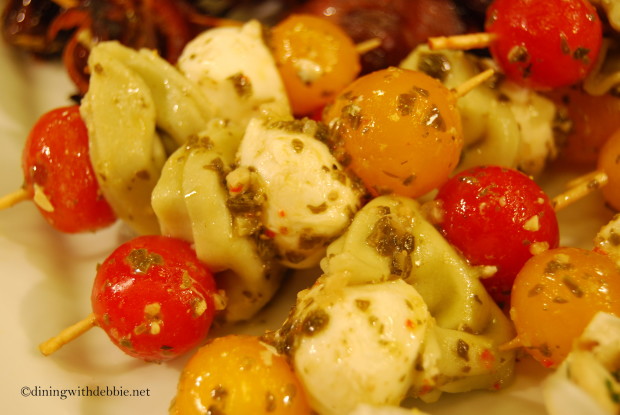 Tortellini Caprese Skewers with Basil Vinaigrette
2015-01-23 07:38:43
Serves 20
Ingredients
1 9-ounce package refrigerated cheese or spinach tortellini
3 cups grape or cherry tomatoes
24 ounces fresh Boconccini or Ciliegine (mozarella balls)*
fresh basil leaves
60 6-inch wooden skewers
For the Basil Vinaigrette
1/2 cup white balsamic vinegar
1 teaspoon Kosher salt
2/3 cup extra-virgin olive oil
6 Tablespoons julienned fresh basil
freshly cracked black pepper
For the Skewers
Prepare the tortellini according to package directions, leaving it al dente. Drain and chill for 1 hour.
Beginning with a grape tomato, thread a mozzarella ball, grape tomato and a tortellini. Stick in a basil leaf occasionally, if desired.
Place the skewers in a large baking dish and pour over with the vinaigrette, turning to coat.
Cover and chill at least 2 hours. These can be made a day ahead and kept in the refrigerator; turn occasionally.
For the Basil Vinaigrette
Whisk the vinegar and salt together until well blended. Slowly add in the olive oil, continuing to whisk all of the time.
Stir in the basil and freshly cracked pepper.
Spread over the tortellini skewers.
Notes
The vinaigrette makes approximately 1 1/2 cups.
* I prefer the Cilegine.
Dining With Debbie http://diningwithdebbie.net/