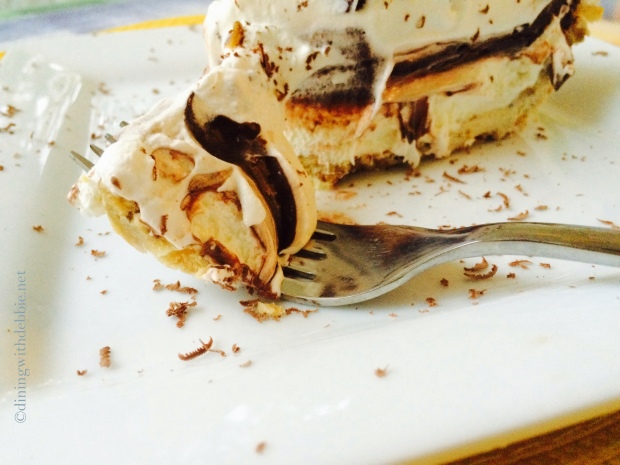 Go ahead. Play it. You know you want to.
Before you turn away thinking I've totally lost my mind for cooking up some possum, just let me say that this is one possum dish you, your family and your friends are absolutely going to love. Trust me. I've been asked by THV11 This Morning to prepare Possum Pie for a segment they are calling Foods Unique to Arkansas. Yes, possum pie. If you haven't already passed out from fright at the thought of something akin to possum pot pie, just know that the closest this pie get to possum is in "playing posum." According to fellow Arkansas Women Blogger friend and foodie, Kat Robinson in her book Arkansas Pie, it's called Possum Pie because it impersonates a pie…and a cake…and perhaps a trifle.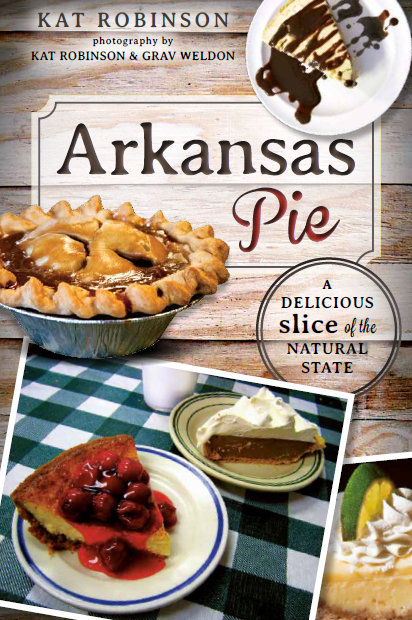 Apparently, you can find one version or the other of this dessert in all areas of Arkansas as Kat discovered in her travels around the state. I grew up with my mother calling it Four Layer Delight. So if you've had that then you've already eaten a big chunk of possum. Go brag to your friends. Just about every restaurant worth its salt in Arkansas offers up this pie. There's Myrtle Mae's in Eureka Springs. (You gotta' love a place called Myrtle Mae's. She was a real life go-getter and self-made woman, by the way.) The Red Rooster Bistro now of Fort Smith bakes up a batch of pies that you wouldn't believe, but you can count on Possum Pie being one of those. Then there's Patti Cakes in Conway (@patticakesAR) , Opal Mae's in Russellville and Sweet Treats in Lamar. I don't think Miss Rhoda of Rhoda's Tamales in Lake Village offers a Possum Pie, but there's sure to be one somewhere in the Delta. Charlotte's Eats and Sweets in Keo probably can whip up a mean version although I've never eaten it there.
Just remember, if it doesn't say Possum Pie (or Four Layer Delight) on the dessert menu, then it's probably not a true authentic Arkansas roadhouse, diner or cafe. And if, as I learned years ago from newspaper columnist Richard Allin, there's not a good ration of pickem-up trucks and at least one Cadillac in the parking lot of said establishment, you just might as well keep on going anyway cause the food probably won't be fit to eat. Again, trust me on this. You'll find a variety of ways that this pie can be prepared. Some use a pie dough crust; others use a pecan shortbread crust. Still others use crumbled up pecan shortbread cookies in much the same way that you might crumble up graham crackers to make a pie shell.
Me? I'm in the pecan shortbread crust camp. But Kat and I differ a tad bit on just how to make that crust. Not terribly significant, but I do include a little frozen butter in mine. And since I am a big fan of dark chocolate, I'll make my Possum Pie using that instead of milk chocolate. But, you can do whatever floats your boat. I've even make this with butterscotch, lemon, pistachio and coconut cream fillings. Not all at once, of course, but who knows that just might be the next best flavor combination.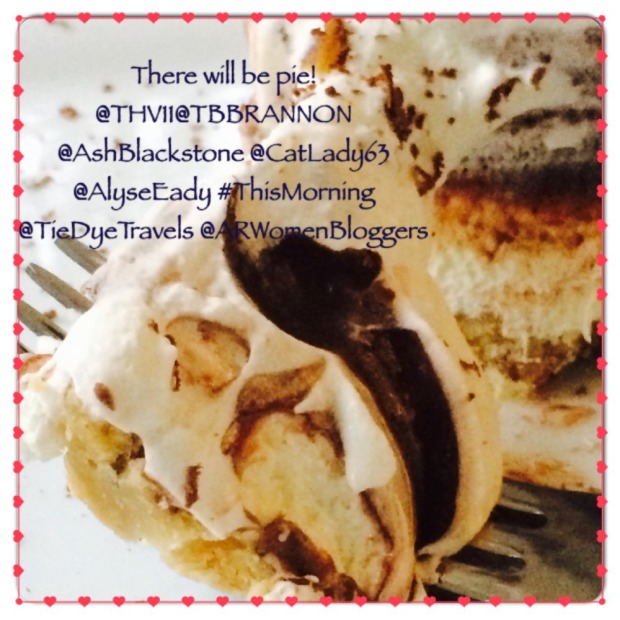 I'll be sharing my recipe on the THV11 web site and will provide that link here after they publish it. In the meantime, grab a cup of coffee early Tuesday morning and come join me as I showcase this special Arkansas favorite.
GIVEAWAY; As an added bonus for getting up soon early to watch my little segment, I'll be giving away a signed copy of Kat's book to one of my lucky readers (limited to the United States). All you need to do is tell me about your favorite pie in the comments below. Check back here next Friday, Nov. 2,1 to see if you have won. See you early Tuesday, 6:45 a.m, Nov. 18 on THV11 This Morning. Good Luck. PS: You can also view the segment at your leisure by going to the THVII This Morning web page.