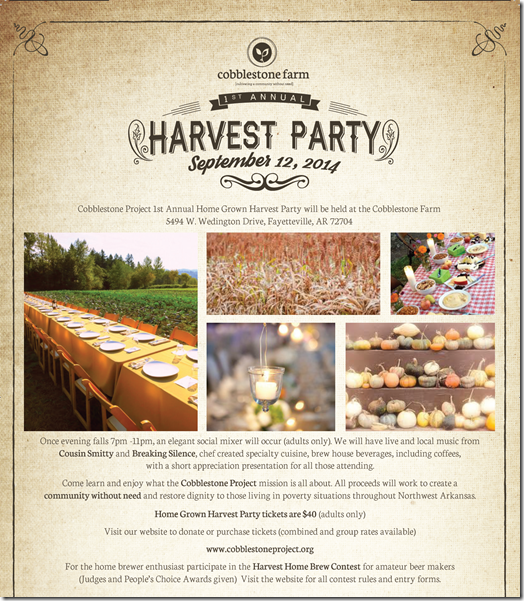 Jennifer Crowson Watts, a guest speaker at #AWBU2014 #FoodieFriday, is the Executive Director of Cobblestone Project.
The Cobblestone Project will party for a purpose during the first Annual Harvest Party, Friday, Sept. 12, at the Cobblestone Farm located at 5494 W. Wedington Drive in Fayetteville. All proceeds from the event will benefit the Cobblestone Project, which works to create a community without need and restore dignity to those living in poverty situations throughout Northwest Arkansas.
The event will kick off with a Children's Seedling Soiree from 3 to 6 p.m. Activities include harvesting fall produce, bobbing for apples, kids yoga, horseback riding and more. Kids can dance along to the music of the Ozark Celtic Band. Snacks for all ages will also be provided and parents can shop our local vendor booths.
"Cobblestone Project works to restore dignity to those without a place to call home, who may be hungry or under-resourced in Northwest Arkansas. We want our neighbors to feel a sense of security and support from us and build the courage to re-engage within the community and create positive changes in their lifestyles," said Jennifer Watts, Cobblestone Project executive director. "The Harvest party will be a fun event that allows us to share our story, as well as raise awareness and funding to continue to provide a fresh produce solution to hunger relief and assistance to our community partners."
During the evening, an adult only Home Grown Harvest Party will start at 7 p.m. The event will feature live music, chef-created specialty cuisine and brew house beverages. Utilizing fresh produce from Cobblestone Farm and poultry from Crystal Lake Farms, Kind Kitchen, The Farmer's Table and Jen Lewis are sure to satisfy everyone's pallet. Core Brewing and Distillery and Ozark Beer Company will serve a sample of their favorite brew and have beer for purchase all evening. Those favoring a different brew can enjoy coffee from Airship. Participants will be entertained by a blend of rock and country from local bands Breaking Silence and Cousin Smitty.
For the home brewer enthusiast, there will be a Home Brew Contest for amateur beer makers. Participants should plan for 12- 24* bottles for judging. Event attendees will be allowed to sample and vote for people's choice*. Visit the website for all contest rules.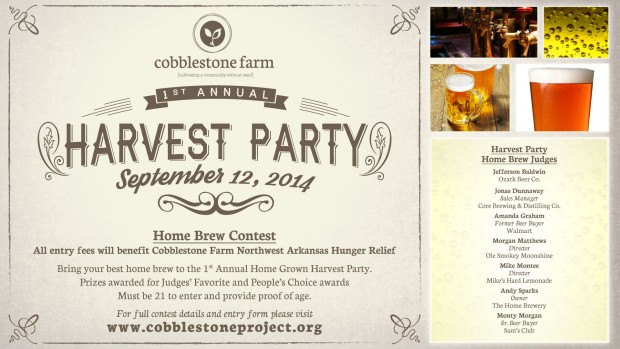 Tickets are $5 for children under the age of 12, or free with the donation of an art supply, hygiene product, or non-perishable food item. Tickets for adults are $10 for the Children's Seedling Soiree and $40 for the Home Grown Harvest Party only. To purchase tickets, view adult day combination ticket prices and group rates visit www.cobblestoneproject.org. Event is hosted by IFCO and sponsored in part by Lindsey and associates.
About The Cobblestone Project
The Cobblestone Project was founded in 2008 by a small group of Northwest Arkansas families hoping to encourage a movement of people to build pathways between the needs of people in our community and those with the desire to meet those needs. The dream of the Cobblestone Project is to work toward "A Community Without Need." Additional information about the Cobblestone Project can be found by visiting http://www.cobblestoneproject.org, on Facebook at https://www.facebook.com/CSProject and on Twitter at https://twitter.com/csproject.
GIVEAWAY from COBBLESTONE PROJECT: If you are a member of Arkansas Women Bloggers, you are eligible to enter.