One of my most favorite summer foods is vine-ripened tomatoes, especially those heirloom varieties that are grown in our little garden: Cherokee Purple, Arkansas Traveler, Black Prince, Costoluto Genovese, Brandywine and their many cousins. At one time, I grew 33 different varieties of heirlooms, but that was pre-grandchildren and pre-lake house days. Plus, my neighbors and friends – in fact, anyone I even remotely knew – started backtracking as soon as they saw me heading down the street with my tomato basket in tow. There's only so many things you can make with tomatoes, ya' know. Believe me, I've probably tried just about all of them, and I'd be hard-pressed to exclude any of them. I mean, there's Heirloom Tomato Tart, Tomato and Watermelon Salad, and my claim-to-fame recipe for Debbie and Gary's Heirloom Tomato Pie. And these are just some of the ones that I've featured on the blog using fresh tomatoes.
I may.have an addiction.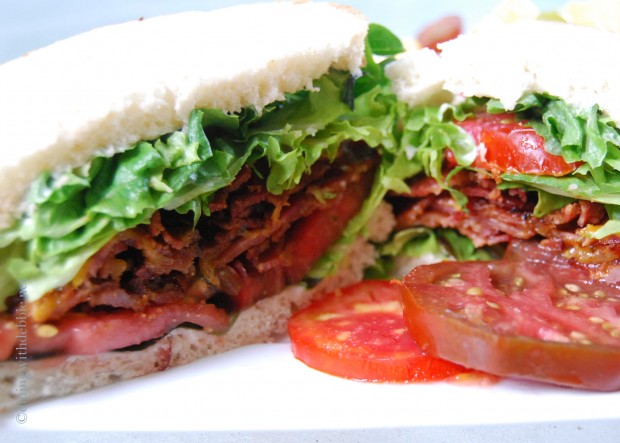 Then there's my BLT, unlike any you'll find on any restaurant menu anywhere. Promise. Pinky swear. We wait all year on our Cherokee Purples for that one. It's just plain heresy to order a BLT any time of the year except during the summer. And do not EVEN talk to me about those hard-as-a-rock tomatoes from the supermarket. My mouth is always so happy when there's a BLT involved. It's a dietary explosion, but it is oh so worth every single calorie.
Of course, there's this salad. This Caprese Salad with Balsamic Reduction. With the reddest, ripest beefsteak tomato home, grown and vine-ripened. And, if it's within your ability, locate some bufala (buffalo) mozzarella. Understandably, that might be a difficult task. If not that, then the best and freshest cow's milk mozzarella you can find. Those pre-sliced and pre-grated versions—forget about them altogether. And since you'll be gathering tomatoes from your garden — or from some local farmer in your community (#eatlocal) — grab a big bundle of Genovese basil while you're gathering.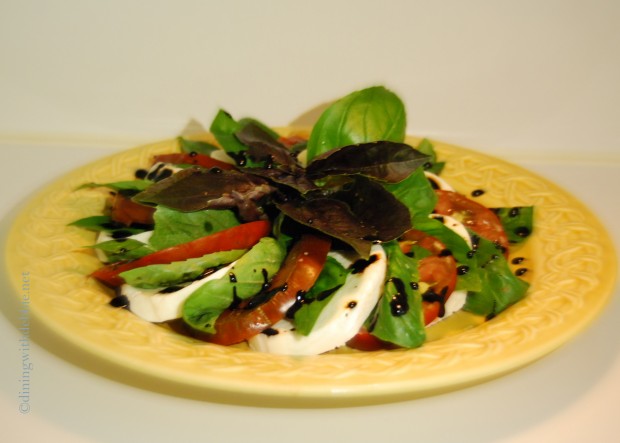 Insalata Caprese, or salad of Capri, can be a light summer meal or a terrific addition to whatever you've got going on over on the grill. According to Epicurious, "The salad was created in the 1950s at the Trattoria da Vincenzo for regulars out for a light lunch. They'd order a just-picked tomato and fresh fior di latte (cow's-milk mozzarella — no buffalo on Capri). The salad has evolved on the island to include a few leaves of rughetta (wild arugula) and a pinch of dried wild oregano, both local products; everywhere else in Italy it takes the form of tomato, mozzarella and basil." Many of Italians would balk, I'm sure, at my addition of the balsamic reduction. It's just the way we happen to like it, and I would never think of using dried herbs. Again, that's our preference.
"Whatever floats your boat," I always say.
What about you? Are you as addicted to fresh, vine-ripened, homegrown tomatoes a I am? What's your favorite way(s) to enjoy them?
Caprese Salad with Balsamic Reduction
2014-06-26 15:48:27
Serves 4
Salad
4 - 5 large vine-ripened tomatoes, sliced 1/4 inch thick
1 pound fresh mozzarella (approximately), sliced1/4 inch thick
fresh whole basil leaves, washed well and spun dry
3 to 4 tablespoons garlic infused extra-virgin olive oil*
fine sea salt to taste
freshly ground black pepper to taste
Balsamic Reduction
1 cup good quality balsamic vinegar
Garlic-Infused Olive Oil
4-5 cloves garlic, peeled and crushed slightly
2 cups extra-virgin olive oil
Garlic-infused Olive Oil
Add the oil and crushed garlic to a small saucepan; heat just to the point where the oil starts to bubble slightly and the garlic begins to sizzle.
Remove the oil and garlic from the heat; cover and allow to cool completely.
Strain the oil using a sieve lined with a coffee filter; store in a plastic squeeze bottle or glass jar.
Refrigerate and use as needed. It may need to be heated slightly in the microwave or allowed to come to room temperature before using.
Balsamic Reduction
Prepare this shortly before using but with time for it to cool to room temperature.
Heat the vinegar over medium-low heat until it thickens to the desired consistency. I like for mine to coat the back of a spoon.
Whisk often and watch carefully. Once it begins to thicken, the vinegar can turn to balsamic taffy quickly.
Set aside until you are ready to dress the salad.
Salad
Arrange the tomato and mozzarella slices and basil leaves on a platter.
Alternate each ingredient to create a linear or circular presentation.
At serving, drizzle the garlic-infused olive oil and the balsamic reduction over all.
Dining With Debbie http://diningwithdebbie.net/