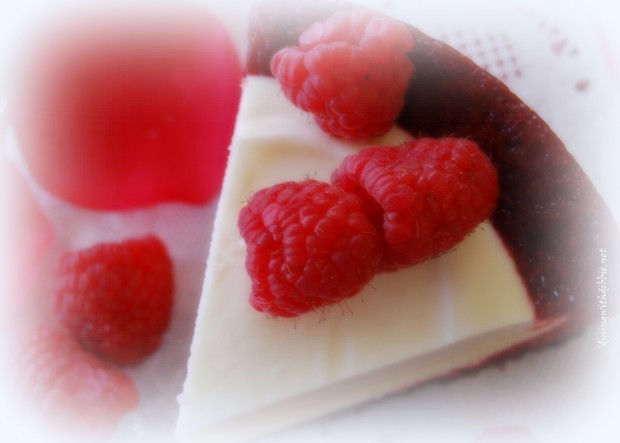 This what I call a "cheater recipe." I can't even begin to go into how many ways there must be to adapt this Red Velvet Cheesecake recipe, I can tell you how I cheated creatively adapted several original ideas to make this one however, and I think it turned out quite well. I mean, there are other things in life that hanging around the kitchen all day even for a food blogger. Right?
I started out to make Red Velvet Cupcakes with Cream Cheese Frosting for a Valentine's Day, but I didn't want to make the chocolatey ones I had made earlier for Perfect Boy's birthday. I really wanted these to pop red. I thought about just making a white cake and dying it red, but I still wanted some chocolate flavor in there. While I'm okay with white chocolate (not almond bark) even though I don't really think it's chocolate, I just wasn't in the mood for that. I think I must have been having one of those "I'm a jig-saw puzzle" days. My mind just kept going back to a red velvet cheesecake I had sampled a few months back — and the quest was on.
While going through some of my files, I came across recipe after recipe for cheesecake, for red velvet cheesecake (dyed red), chocolate cheesecake, white chocolate cheesecake. You name it. Typical.
Now, I'm not one to snub my nose at any kind of cheesecake really (well maybe that instant variety won't make any favorites list), but nothing fit exactly what I was looking for. So I resorted to what Hubby calls, "a kitchen disaster in the making." Except it didn't turn out to be a disaster after all.
Whew. I've already had my full share of those. Off to the grocery.
As I passed by the bakery section, guess what I spied. Yep. Red velvet cupcakes. (Sorry. No picture. Just potential.) I asked if there were any that were not yet frosted. BINGO! So I picked up six of those naked babies, got my frosting, some chocolate wafer cookies, and cheesecake ingredients, some raspberries that really looked great, and off I went.
I was really feeling smug at this point. Brilliant, is more like it. Easy-peasy. Sort of,. You're going to have to do a little internet browsing for this one. Sorry, but my typing fingers were tuckered after a day spent baking all day (sort of again).
1. I made half of this White Chocolate Cheesecake recipe, omitting the bottom layer of raspberries and the red food coloring, and using only half of the crust. I used the chocolate wafers instead of graham crackers to make the crust although chocolate grahams would have worked just as well and I ground the almonds (add in 1/4 cup flour if you omit the almonds).
2. I pressed the crust ingredients firmly into the bottom and only slightly up the sides of an 8-inch spring form cake pan and chilled it for 15 minutes before baking it in a 300 degree oven for 10 minutes; set aside to cool slightly while making the cake crust (there may be a better term?)
3. I coarsely crumbled the plain red velvet cupcakes and poured 1/4 cup butter over the crumbs to bind. I pressed a layer of these crumbs firmly on top of the chocolate wafer crust and all the way almost to the top of the pan. Chill for at least 15 minutes while making the filling ingredients.
4. Pour the cheesecake filling into the crust and bake at 300 degrees for 45 – 60 minutes until the filling is set. Allow to sit on a wire rack for 5 minutes.
5. Make the sour cream topping while the cheese cake is baking and set aside in the refrigerator. Pour over the cheesecake in the pan and smooth. Return to the oven for 8 minutes until the topping sets.
6. Remove from the oven and cool completely. Refrigerate overnight before removing from the pan and slicing. Slice with a very sharp knife that has been dipped in hot water before each slice.
6. Garnish with raspberries. And whipped cream if you haven't forgotten it at the grocery like I did.
Believe it or not, it worked! I may give it another shot and refine the ingredients enough to actually write a recipe. Or not. Sometimes you just dance with what brung ya' as my Mamaw used to say.
How about trying it with a lemon cheesecake? What do you think?
I say there's nothing wrong with letting someone else do part of the work for you if you're happy with it and you can.
Have you ever just pulled something out of the top of your hat like this? I bet it was delicious!
Congratulations to Allison and Mel, winners of a pair of tickets each to the Arkansas Flower and Garden Show on Feb. 21-23. Emails have been sent.