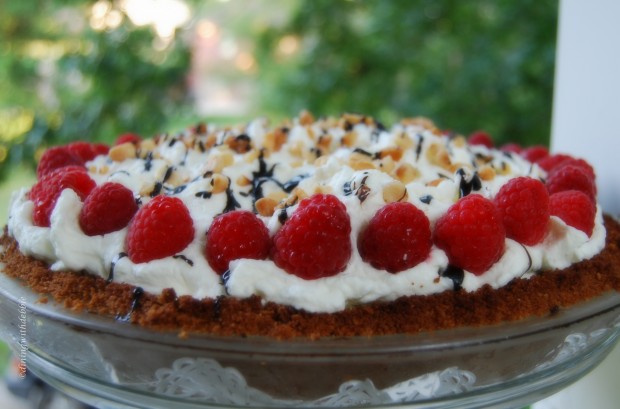 Have you entered the giveaway for two tickets to the Arkansas Symphony Halloween Spooktacular? Go do that right now then come back and indulge in this amazing pie.
So what do you do when you overcook a sheet of white chocolate chip macadamia nut cookies so that they are still yummy but a little on the (harumph) crispy side? I didn't say burned. I would call them "delightfully extra crunchy" instead and turn them into the crust for this BEYOND decadent pie.
Well, of course. What else would you have done? That's what I thought.
This truly was a pie that made itself in the sense that I decided what was going to go in it as I prepared it. Do you ever do that? Sometimes that works; sometimes, well… Fortunately, this was one time that it really, really worked.
It worked so well as a matter of fact that once it was sampled for quality, I hauled it off to some of my former teacher buddies. It HAD to get out of my house. Immediately.
But this is what I would call a "special occasion" pie. It is time consuming because of the stages of freezing that it must go through, and it is definitely a diet buster. My theory is this: occasionally both of those things are meant to be. Life needs special occasions, and it definitely needs diet busters. That's easily evidenced by the needle on my scale.
Trust me. Make this pie. Your family and friends will love you. You will love me. We'll all be so happy.
Oh, and no there are no misprints with the amount of whipped cream.
White Chocolate Macadamia Nut Pie
1 9-inch deep dish or 1-10 inch white chocolate chip cookie crust (graham cracker or chocolate cookie crust may be substituted)
Crust:
1 3/4 cup finely crushed white chocolate chip macadamia nut cookie crumbs
5 Tablespoons unsalted butter, melted
1 jar dark chocolate ice cream topping
Pulse cookies in a food processor until you have approximately 1 3/4 – 2 cups of fine crumbs
White processor is running, slowly add in melted butter until combined. Press crumb mixture into the pie plate and bake at 350 degrees for 10-12 minutes until golden.
Spread the hot pie crust with a thin layer of the dark chocolate ice cream topping, approximately 1/4 cup. Cool completely on a wire rack before filling.
Filling:
7 ounces premium white baking chocolate, chopped
1/2 cup heavy cream
10 ounces cream cheese, softened
1/3 cup granulated sugar
1/2 teaspoon orange or raspberry extract
1 cup heavy cream whipped to soft peaks
1/2 teaspoon orange zest, grated fine
1 1/2 cups heavy cream
1/3 cup sifted powdered sugar
4 ounces chopped toasted macadamia nuts, divided
1 pint fresh raspberries, if desired
Additional dark chocolate topping, if desired
Heat 1/2 cup heavy cream to a simmer. Add in the chopped white chocolate and still until it is melted. Set aside to cool to room temperature.
Beat the cream cheese, sugar, and extract until smooth, scraping down the sides frequently. Stir in the orange zest and the melted white chocolate mixture. Fold in 1 cup whipped heavy cream and 2 ounces of the toasted, chopped macadamia nuts.
Spread evenly into the pre-baked pie shell. Freeze until frozen solid (overnight is best).
To finish:
Beat the 1 1/2 cups heavy cream until soft peaks form. Gradually add in the sifted powdered sugar until the cream has formed stiff peaks. Do not overbeat or you will have sweet cream butter.
Remove the frozen pie and spread with the whipped cream. Freeze until firm.
Warm 2 Tablespoons of the dark chocolate ice cream topping and drizzle over the frozen pie. Garnish with the remaining macadamia nuts and raspberries.
Return to the freezer. Approximately 15 minutes before serving, remove the pie from the freezer. Use a warmed, sharp knife to cut each slice, cleaning the blade between each cut.
Store the remaining pie in the freezer. (Yeah, right!)
Adapted from Food.com, FoodNetwork.com (Paula Deen) and Pillsbury.com