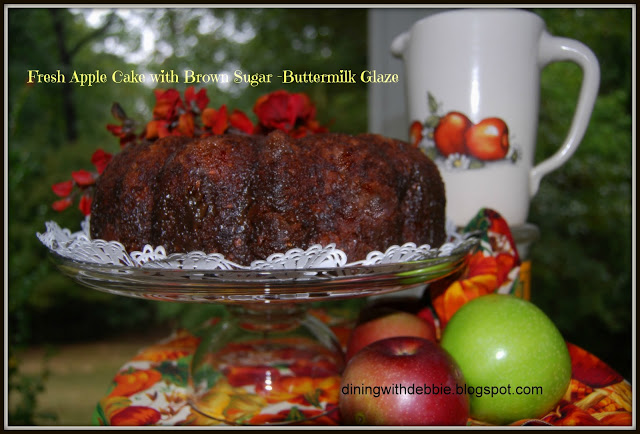 Nothing says autumn to me more than apples, pears and pumpkins – the fresh from the orchard and garden varieties are a welcome addition to our pantry. While I truly admit to being a summer person, I do like the change of seasons in fall and spring. Winter not so much. With a hint of a chill in the air this morning, my mind turned to thoughts of those scents we so associate with the season – cinnamon, nutmeg, apples –and I knew I would be baking this family favorite. Since pumpkin generally overtakes November and December in our household, I tend to go with apples and pears in October.
Whenever I can get them, I like using the
Arkansas Black
apple for this cake partly because it originated in Northwest Arkansas, but mostly because it is a sweet-tart, firm apple that keeps its integrity. It is an excellent apple to dry
i
f you are so inclined. A Granny Smith is an acceptable substitute if you cannot locate the Arkansas Black.
Fresh Apple Cake with Brown Sugar Buttermilk Glaze
2015-09-14 05:46:20
Serves 12
Cake
2 cups sugar
3 eggs
1 cup canola oil
3 cups peeled, chopped apples
1/2 cup applesauce
1/4 cup orange juice (orange-mango works well also)
3 cups all-purpose flour
1 teaspoon baking soda
1/4 teaspoon salt
1 Tablespoon cinnamon
1 cup toasted, chopped walnuts
Glaze
1/2 cup unsalted butter
1 cup dark brown sugar
1/2 cup buttermilk
1/2 teaspoon baking soda
Instructions
Preheat the oven to 325 degrees. Grease a 10-inch tube pan or Bundt pan.
Mix flour, soda, salt and cinnamon; set aside.
Beat oil and sugar until well-blended. Beat in eggs, one at a time. Add in applesauce and orange juice and beat until mixed thoroughly.
Add flour mixture until blended. Stir in nuts and apples.
Pour into prepared pan and drop onto the counter and shake the pan to settle the batter and release any air pockets.
Bake approximately 1 - 1 1/2 hours (check often after the first hour) until a toothpick inserted in the middle comes out clean.
Glaze
Just before removing the cake from the oven, make the glaze. Melt the butter in a large saucepan. Add the brown sugar, buttermilk and baking soda. Bring to a boil, stirring constantly for one minute.
Pour the glaze over the hot cake in the pan immediately after removing the cake from the oven. Let the cake stand in the pan one hour before turning out onto a cake rack to cool completely.
Slice and serve with whipped cream if you dare!
Dining With Debbie http://diningwithdebbie.net/
This is a very rich, very dense cake that keeps its freshness a number of days. It also freezes well. You can easily eliminate the glaze if you prefer a less sweet dessert. This can also be baked in a 8 x 10 inch cake pan with cooking time adjusted.


Arkansas Blacks
Benton County, Arkansas (Bentonville)
probably Winesap seedling
harvest: October – November
season: mid-fall to early winter