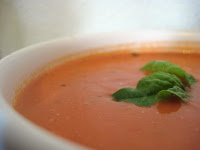 This is very similar to La Madeleine's Tomato Basil Soup. My friend, Mary Lynn, has to email me the recipe every time I get ready to make it because I always seem to lose my copy and am just too lazy to look for it. This makes a BUNCH, but it is really good. I also have another tomato-basil soup recipe that I like very much…unfortunately, I can't find that one either:) It will show up eventually, and I will post it.
Mary Lynn's Tomato Basil Soup
2014-12-12 14:38:05
Ingredients
4 cups (8-10) tomatoes, peeled, cored and chopped OR 4 cups canned whole tomatoes
4 cups tomato juice (You can combine tomato juice and chicken or vegetable stock to make the four cups. I prefer that.)
12 – 14 washed, fresh basil leaves
1 cup heavy cream
1/4 pound sweet, unsalted butter (Is there a sour butter?)
salt to taste (It won't take much unless you are like my husband who salts his salt.)
1/4 or more freshly cracked pepper
Instructions
Combine tomatoes, juice/and, or stock in saucepan. Simmer over low hear for thirty minutes. Puree, along with the basil leaves, in small batches. If you have a hand-held blender, this would be a perfect time to use it. Return the blended soup to the pot and add the cream and butter. Stir slowly as you do. Garnish with basil leaves or freshly grated parmesan.
I usually serve this with some time of crusty garlic bread.
Dining With Debbie http://diningwithdebbie.net/